This post contains affiliate links.
I've ice fished by carrying a bucket and a couple of ice rods and walked into a lake, and have traveled across the Ice Belt and Canada with a 16′ trailer, a snowmobile, and enough gear for a week!
As a general rule, an ice fishing sled isn't necessary to go ice fishing. As you spend more time on the ice, though, you will find an ice fishing sled does make your day easier. Pulling a sled and gear on ice takes less effort than carrying gear by hand, and you can bring extra equipment if desired.
An ice fishing sled isn't an indulgence by any means! Once you fish with one and see how easy they pull and carry your gear, you'll always have one!
I love having my small pull sled when I'm fishing local or for a half-day or so, and here's why!
Are Ice Sleds Necessessary?
Sleds are not necessary because their main purpose isn't really needed for ice fishing. This means you could go ice fishing without a sled!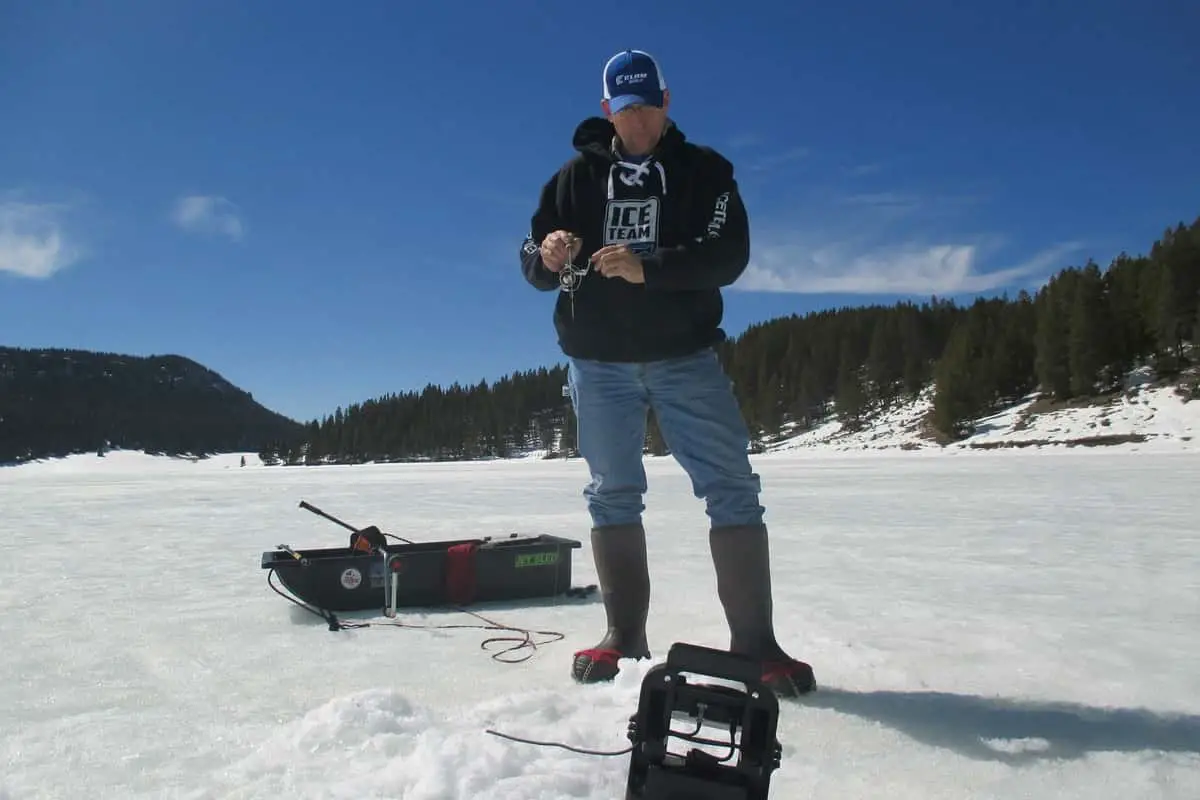 But if you're carrying an auger in one hand and a 5-gallon bucket with rods, tackle, drinks, and stuff in the other hand, your shoulders will be sore after walking a few hundred yards!
The best things about ice fishing sleds, they are incredibly inexpensive, effortless to use, and pretty rugged!
If you're the type of person who carries lots of gear, accessories and always has the essentials with you, these sleds are a nice thing to have!
How Does an Ice Fishing Sled Look and Work?
Ice fishing sleds are mainly made of plastic. Their shape resembles a small boat or tub, and they come in a variety of sizes.
Additionally, ice fishing sleds are easy to pull because they are not excessively heavy. Their primary utility is to carry gear with you when you go ice fishing. Sleds are pulled behind you and can be pulled by yourself or towed with an ATV, UTV, or snowmobile.
How Can I Pull an Ice Fishing Sled?
There are different ways of pulling an ice fishing sled. You can use a strong rope and tow it by hand. If your ice fishing sled is heavier, you can use a sled harness that attaches to your body.
I've often placed the rope across my chest and over one shoulder, and beneath the other arm. Then I can use my upper body to pull the sled along easier and give my arms a break!
How Can I Make an Ice Fishing Sled Easier To Slide and Pull?
One way to make a sled easier to pull is to install what's knows as a "runner kit" to the underneath side of the sled.
A runner kit consists of two to five or more strips of hyfax material around 1″x.75″x46″ or longer. These are bolted to the bottom of the sled and allow it to glide easier!
Not only will a runner kit make your sled easier to pull, but it also saves the bottom of your sled from wearing out from being pulled on parking lots, rocks, etc.
There are various runner kits on Amazon for different sled manufacturers and generic kits you can also use. My runners have added seasons to my flipover tub and sleds!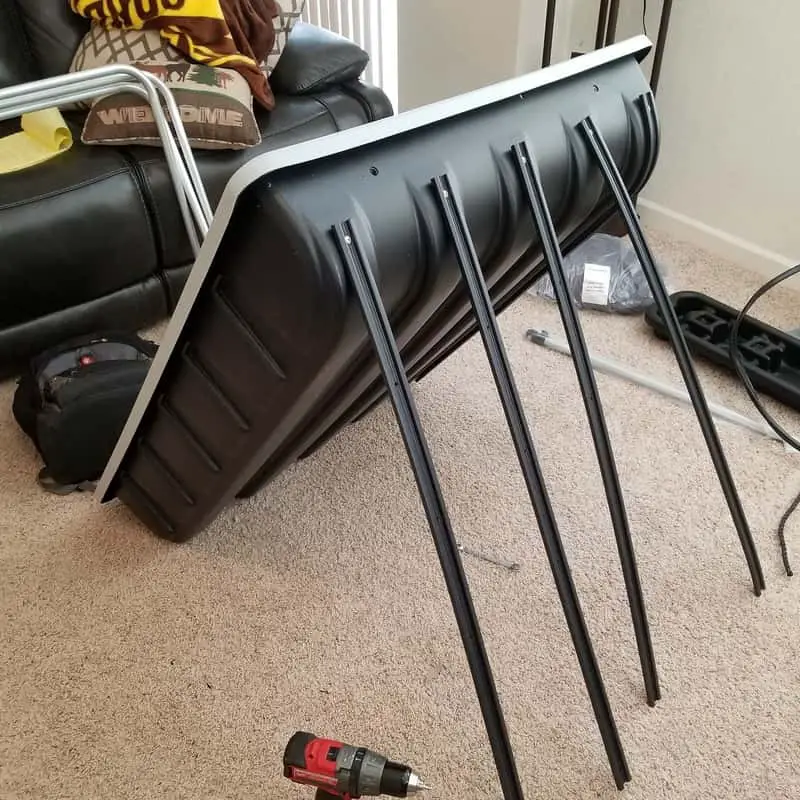 A second way to make a sled easier to pull is to eliminate the short factory pull-rope that comes with it! I always go to Home Depot and purchase a 16′ length of 3/8″ rope as a replacement.
The longer rope will have your sled a little further behind you and gives you a better angle to pull from. A plus is, the sled will no longer be banging into the back of your boots either!
Can I Use a Regular Sled for Ice Fishing?
Yes, you certainly can use a regular sled for ice fishing. Technically, you could use any sled that is made or designed for snow. Typically a regular sled is made for sitting upon and sliding down a hill.
A sled for ice fishing is designed to haul equipment over flat expanses of lake ice with higher sides to keep as much snow out of your sled as possible.
Every year though, I see those skinny red plastic kids toboggans being used for ice fishing, with a few bungee cords to strap things down!
One of the problems you may run into, even with smaller and narrower ice sleds, they tend to tip over easily. This is why the bungee cords come in handy!
How Can You Pick The Best Ice Fishing Sled For You?
When it comes to selecting an ice fishing sled, you need to consider several things. Listed below, you can find details to help you decide which one to buy that suits your needs.
Evaluate your needs: How much ice fishing equipment will you actually be hauling? Are you bringing bait buckets, coolers, stoves or a grill?

Do you need one large enough to toss your favorite popup shelter into? If you're going with buddies you may also be hauling some of their gear too!

Your budget: Although ice fishing sleds are not that expensive, they can still be pricey for you, and the larger the sled, the more it will cost!

Size and capacity: Length and size are essential because you have to carry your sled by yourself, which means it has to be the right size for you.

If you do not need a big sled, don't buy it. The more space you have the more likely you'll bring along stuff you don't really need! Larger sleds are sometimes difficult to transport in your vehicle too.
Best Ice Fishing Sleds
Some of the best or most known ice fishing sleds are the:
Shappell Jet Ice Sled: These are directly designed for a smooth and comfortable towing in the snow or ice. Shappell Jet Ice sleds are large, and they can carry many objects.
Otter Ice Fishing Sleds: These sleds are solid, and they have seamless surfaces. This is why these sleds are known as rugged and durable.

I would say the most popular ice fishing sled is the Shappell Jet Sled! The one I own is close to 10 years old now!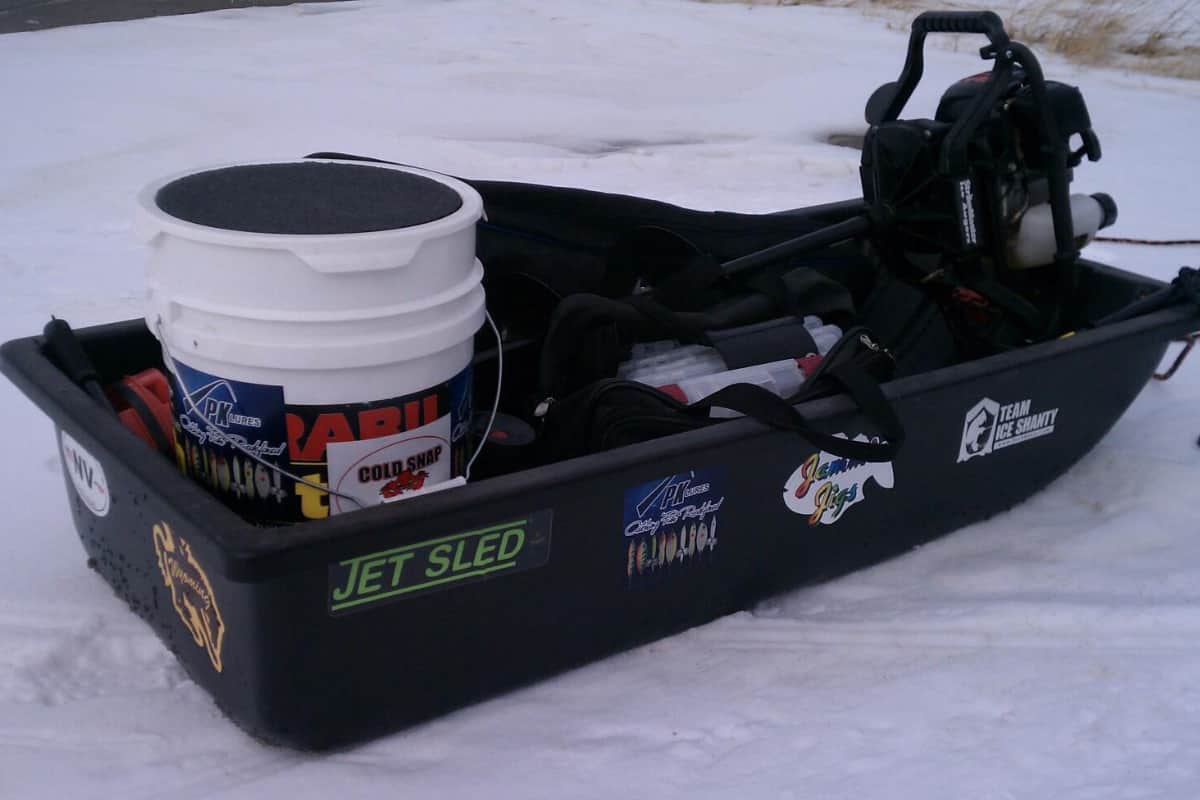 As you can see, I carry a 5-gallon bucket (I carry my Vexilar flasher inside the bucket on my way out), a tackle bag or two, my Strikemaster 4-Stroke Lite Ice Auger, a rod case, and other assorted gear for the day!
In my opinion, you can't go wrong with the Shappell! Most local sporting goods stores will carry them too!
Do Ice Fishing Sleds Float?
Ice fishing sleds can float depending on several factors. If you fill it with too many things, it will sink immediately. You will have to consider how heavy things are and how many things you will be carrying to prevent them from sinking.
Find out more about floating ice sleds in my article Do Ice Fishing Sleds Float? What You Need To Know!
Can I Use A Kid's Sled For Ice Fishing?
You can do it, but keep in mind that these sleds are small. The best suggestion is to use a big enough sled to hold everything you want to carry when ice fishing.
And like I mentioned above, they have a strong tendency to flip over and dump your gear out when you least expect it! (Go with bungee cords!)
Can I Tow My Ice Fishing Sled With A Snowmobile or ATV?
Yes. Snowmobiles and ATVs can tow an ice fishing sled without any issues.
If you town them using the rope, be sure not to stop suddenly, the sled will continue at the same speed and crash into the back of your rig!
You can mount a metal tow bar on them to alleviate this issue.
Overall Thoughts!
A sled isn't needed to enjoy a day on the ice, but it does make the day easier when you don't have to hand-haul your gear in!
Once you try one, you'll hardly ever go again without a sled!
Have fun and stay safe out there!