This post contains affiliate links.
You'll want to consider several factors when deciding which style of ice fishing shelter to choose, hub or flip-over. I own both types of ice shelters for different reasons and uses. But which is best for you?
The flip-over shelter is excellent for transporting your fishing gear onto the ice for 1-2 people. It's easier to heat, and you're mobile on the ice. The hub shelter is not as mobile but is better when remaining in one spot. It easily accommodates 4-6+ people and does require more effort to heat.
Several companies bring high-quality shelters to market each season, so you can choose from various models to fit your specific needs. Here's a quick breakdown of where they do better:
| | | |
| --- | --- | --- |
| | Flip-over | Hub-style |
| 1-2 Persons | X | |
| 3-5+ Persons | | X |
| Easy Heating | X | (Larger heater and more propane) |
| Easy Setup/Takedown | X | X |
| Hauling Your Gear | X | |
| Interior Space | | X |
| Mobility | X | |
| Multi-use | | X |
| Should be Anchored | | X |
| Varied Setup | X | |
| Windproof | X | X |
It then boils down to which style, flip-over or hub style, would fit your needs the best. So let's look at each style further below, shall we?
What Is a Flip-Over Ice Fishing Shelter?
A flip-over shelter is constructed with an aluminum tube framework that extends to support the tent material and then retracts to fold the tent down for transport. The tubing is mounted on a plastic tub with a denier fabric often insulated. There are generally one to two entries for interior access.
Owning and having owned numerous ice shelters over the years, my primary choice is the one-man flip-over when heading to the ice.
You can lay your fishing gear and electronics in the tub and the auger across the top of the flip while easily pulling it by hand.
The flip-over also pulls nicely behind my four-wheeler and sled giving me ample room to bring extra gear.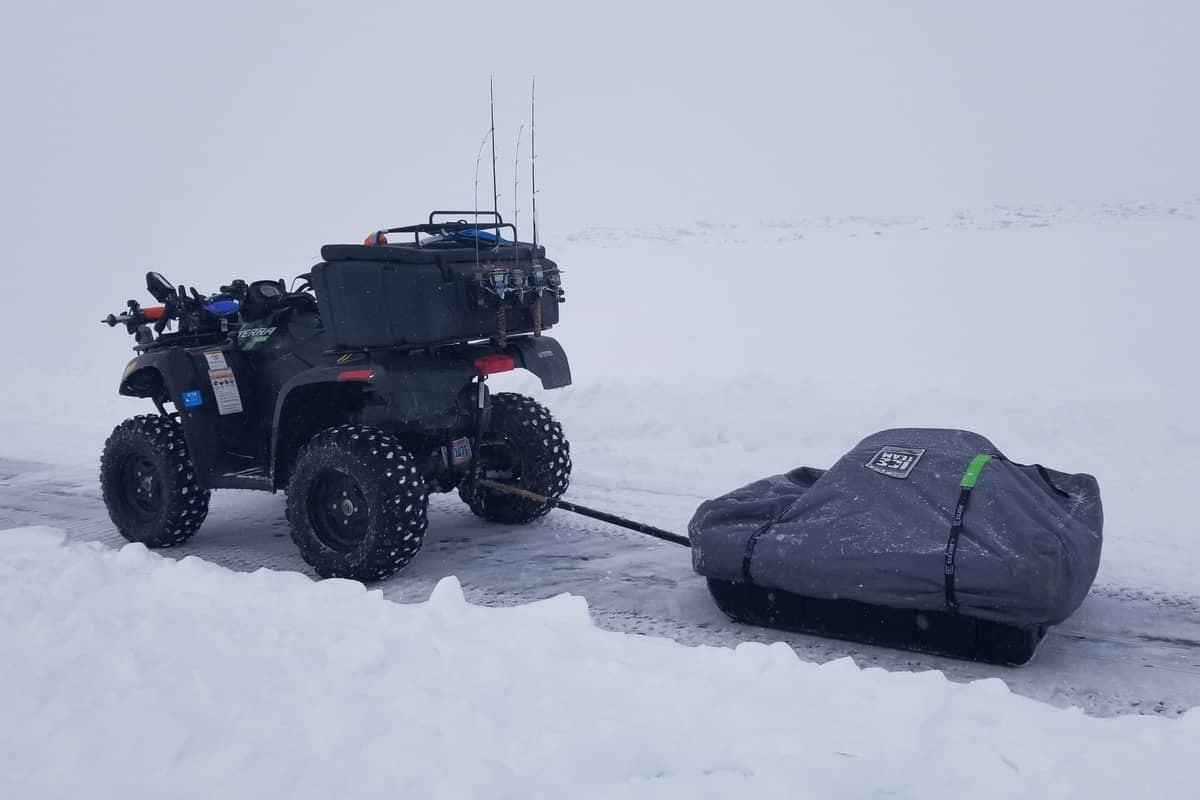 What Is a Hub Shelter for Ice Fishing?
A hub-style shelter is constructed with a fiberglass pole frame covered with a denier material, often insulated. The setup is simply lifting the center hub and pulling out the sides until the tent is taut. A hub can house up to 6 or more persons and is often used for overnight fishing.
The hub-style shelter doesn't come out as often, but I will tell you it is nice to fish from! It's used mainly when a few other guys want to fish with me, or one of them brings their youngsters.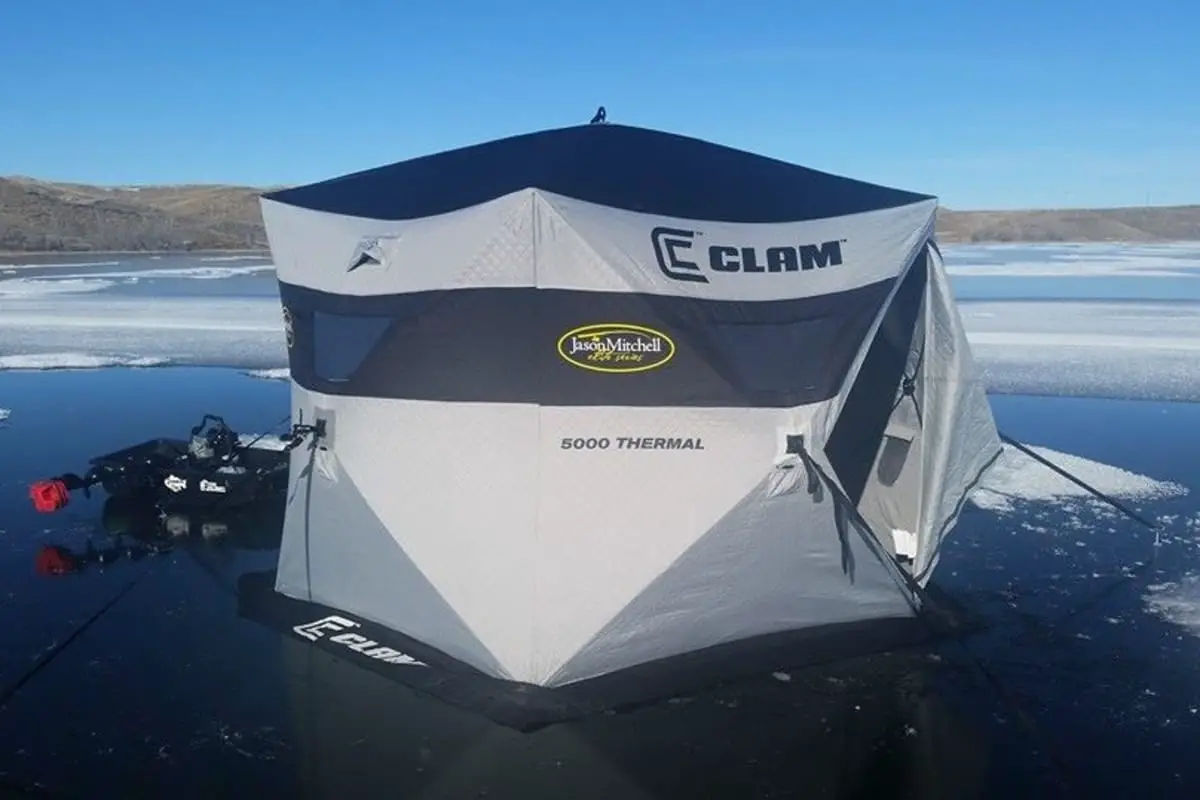 A hub-style popup tent also makes a great "base camp." I've set up the Jason Mitchell 5000 and use it when we take a lunch break or to get out of the weather when nasty. Plus, there's ample room to cook inside too!
11 Considerations When Choosing Between a Flip-Over and a Hub-Style Ice Fishing Shelter
Whether purchasing your first ice fishing tent, replacing an older one, or you're going to add another one to expand your choices, carefully consider these points:
1. For One to Two Persons – Flip-Over
If you fish mainly by yourself or with another person with their ice shelter, a one-person flip-over should fit your needs adequately.
I'm slightly bigger than average at 6'1″ and 240 lbs, so I enjoy a little more elbow room inside my flip. The Legend XL Thermal fits me well and also has a large tub to hold my gear. It's easy to pull by hand too!
With a regular fishing partner, a two-seater flip is a blast. They are quite a bit heavier than the one-person flips but are a blast to fish out of!
The Voyager X Thermal is a two-man shelter I'm considering pulling behind my four-wheeler or snowmobile when I'm on out-of-state trips.
2. For Three to Five or More Persons – Hub-Style Popup
Nothing beats a nice popup hub-style shelter when fishing with a group of friends! Especially if you're on a good panfish or crappie bite!
The Jason Mitchell 5000 Thermal (pictured above) has been with me for over six years, and it still looks good as new after being used many times. Many bratwursts, eggs, and food are cooked inside the JM!
Most popups have plenty of windows, making it easy to watch your tip-ups and any gear you've left outside. Some models have more than one door for ease of entry and exiting.
3. Easy Heating (Flip-Over)
Smaller areas tend to heat way easier than larger spaces. A flip-over is super simple to heat with a small Mr. Heater Buddy Jr.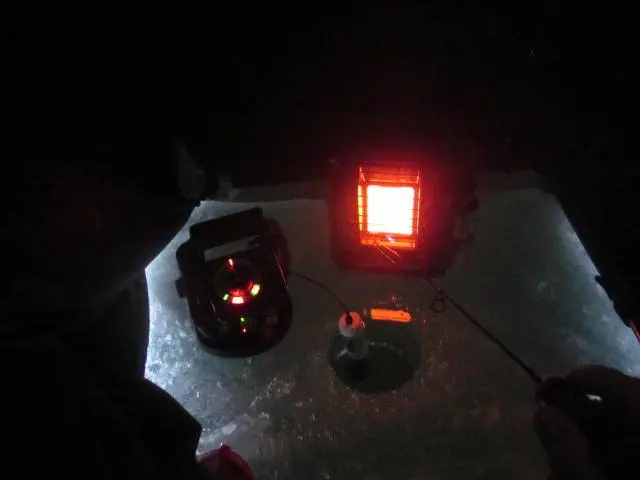 My article on heating your ice fishing shack gives you more information on doing so safely.
The ice shelters from quite a few years ago were made from thinner fabric and had no insulation. It's now common for portable ice shanties to have a nice layer of Thinsulate insulation.
Hubs and flips of today are far easier to heat than they were years ago! Choosing between an insulated or non-insulated ice fishing tent is becoming easier.
Even the bigger two-person flip-over will heat nicely with this setup, while a larger popup takes larger heaters and a lot more propane to fuel.
More stuff like heaters and propane weigh more and take up more space. Travel light or heavy, it's your choice!
4. Easy Setup/Takedown (Flip-Over and Hub-Style)
When it comes to setting up, you really can't beat the flip! But the popup goes up pretty quickly too!
A flip-over has an aluminum tube frame that lifts up and over your head, enclosing you quickly. Some tube frames need to be extended and snapped into place, which can be done while you're flipping the tent up.
For takedown, drop the frame back down into place, and you are all set to make your next move!
The hub-style takes a bit longer to get out of its carrying bag and open up on the ice. Once open, it's a simple matter of raising the ceiling and pulling out all the sides to "snap" into place.
Taking the hub down is a bit more involved. After dropping down the ceiling, push in the sides, roll it back up, and stuff it into the carrying bag.
When making moves throughout the day and using my JM 5000, I'll fold it up, lay it across my Jet Sled, and pull it to the next spot. The popup takes more effort to move but is still pretty easy.
5. Hauling Your Gear (Flip-Over)
When traveling and fishing light, the flip-over is best, hands down! You can place your fishing gear inside the tub, lay your auger across the top of the shelter, and pull it wherever you want.
Most of the time, when I'm using my Legend Xl, I'll hardly set it up though I use it to transport my fishing equipment and Vexilar flasher.
When using the JM 5000 popup, it can be cumbersome to haul it in my Jet Sled by hand with the rest of the equipment. If you're pulling your gear with an ATV or sled, it's much more manageable.
On lakes where the ice is thick enough to drive a vehicle on, it may not matter. Toss all your equipment and shelters into the back of a pickup, and you're good to go!
6. Interior Space (Hub-Style)
Without a doubt, for space considerations, definitely go with a nice popup! A popup shelter will give you the most room for the buck.
When wanting to use folding chairs or tables and maybe do a little cooking inside your shelter, the hub-style is the optimum choice.
The one and two-man flip-over shelters can be claustrophobic if too small or if you're a larger guy like myself. There are one-man flips that do have more room than others, like the Clam Legend XL.
Check out my article on the biggest ice fishing tents and shelters, where I have a list of the popups and flip-overs from the largest to the smallest from the top three ice fishing companies.
7. Mobility (Flip-Over)
In today's ice fishing, one must keep on the move as far as I'm concerned. Fish are constantly on the move, and the commotion on the ice can spook them off their standard patterns.
Being mobile is key to being a successful ice fisherman. And a flip-over tent is as mobile as one can get. A quick flip of the framework up or down, and you're fishing or moving to another spot!
The popup takes longer to set up and take down, which can hinder your fishing day.
8. Multi-Use Shelters (Hub-Style)
Are you considering using your ice fishing shelter for other uses? Then the hub-style popup is the way to go!
I've tossed my Jason Mitchell 5000 into the back of the pickup when heading to the mountains and have used it for a quick setup tent to sleep in.
If you already have a camping tent, a hub popup makes for a great extra sleeping room for kids, and a place to stretch out and relax when you want to.
You can fit a couple of cots inside, a chair or two, and a small folding table. There's plenty of room for a few people to spend the night in the hub next to the trout stream!
9. Which Should Be Anchored (Hub-Style)
Remember when you use your popup shelter, you had better anchor it securely, or it may very well "tumbleweed" its way across the lake! I've seen it happen many times!
All high-quality hub-style shelters should have attached straps to secure your tent to 3-4 ice anchor screws. I have used six ice anchors to secure mine in high winds that are constantly shifting!
With a light breeze, you may get away with using one or two anchors and setting them on the upwind side. But if the wind shifts much, you'll want to anchor the tent from all sides.
A flip-over can be anchored using a strap anchor, and I've only anchored mine a few times in extremely high winds. With no snow on the ice and sitting inside the flip, the wind has blown me away from my fishing spot!
With a skiff of snow on the ice, the snow acts like an anchor and will hold your flip solidly even in strong winds.
10. Varied Setups (Flip-Over)
A distinct advantage between a flip and a hub tent is the ability to utilize them differently. There are three main ways to use a flip-over for different uses:
Fully set up and sitting inside, totally out of the weather with or without a heater going
Partially set up and using it as a windbreak, or
Not set up, and sitting on the cushioned seat with accessibility to your gear while you fish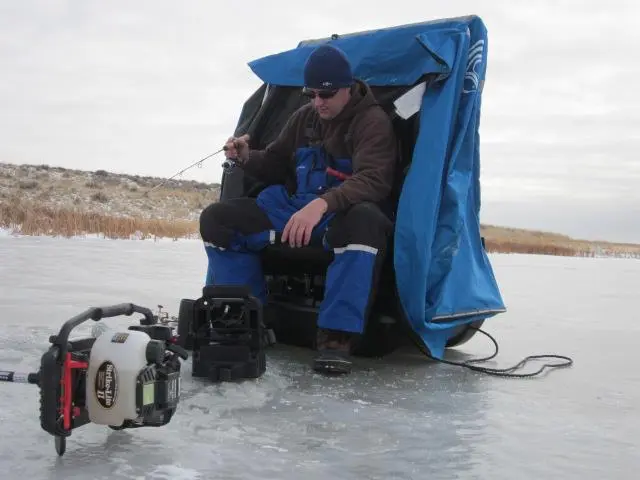 Generally speaking, I usually stand while fishing and move from hole to hole. If the wind is blowing and it's still pretty nice out, my preferred way of using my flip is as a windbreak like above!
When I want to move, it is easily pulled with the rope to another location without taking it down. A very easy way to fish and stay out of the wind!
There is only one way to utilize a hub shelter, which is fully set up. The flip offers you options that the hub doesn't have available to you.
11. Which is More Windproof (Flip-Over and Hub-Style)
Both styles of ice shelters are windproof and water resistant. The hub, generally much larger, tends to catch more wind than the flips do and are susceptible to being blown across the ice.
Flips are lower in height, although there are a few that you can stand up in if you're not very tall, you can bend over a bit and aren't hit by the wind as hard.
The weight of the flip-over tub and gear is often enough to keep it anchored pretty well. Sitting on a little snow makes it difficult for the wind to move them around very far.
Can You Leave a Portable Ice Fishing Shelter Overnight
Generally, you can leave your portable ice fishing tent overnight in most states. It is a good idea to have your name and contact number attached to the outside in plain sight. Some states do require the owner's name on the shelter. It is recommended you not leave your fishing gear overnight.
I have yet to leave my portable hub ice shelter or thermal flip shelter overnight on the ice. Although I have seen others do it!
Most of the time, if there are tents on the ice, there are fishermen inside of them or near the tent. One thing I would never do is leave my fishing gear and electronics on the ice!
With today's portable shelters having good insulation features and being built to handle all types of weather, overnight camping, sleeping, and fishing in an ice fishing tent are becoming more common.
Final Thoughts
Undoubtedly, having a quality insulated tent to climb into when it's cold or nasty out will make your day better than not having a tent.
"Buy once and cry once" comes to mind when purchasing a portable shelter. They'll run a couple hundred to over a thousand dollars for extremely large shacks with many options and accessories.
Whatever your budget, toss another hundred in if you can and get a little better tent. You'll be glad you did on a frigid windy day.
Popups or flip-overs are both excellent, and I own both styles in different models. Choose the one that fits your needs the best.
Have fun, and stay safe out there!