This post contains affiliate links.
Staying warm when ice fishing will often mean using a heater. With over 25 years of experience on the ice, I've learned what works safely and best. Here's how to heat a fishing shelter.
A portable propane heater is a safe and best heater for an ice fishing tent. For safety, choose an ice fishing heater with a low oxygen sensor and automatic shutoff if it tips over. Partially open your tent's ventilation tabs and use a small carbon monoxide detector at floor level for added safety.
Choosing ice fishing heaters correctly will keep you toasty warm in the coldest fishing conditions, and there are other advantages too! I'll go over them further below.
Key Takeaways: Using a Heater to Heat an Ice Fishing Tent
Choose a safe and efficient portable propane heater
Choose a heater with the following:

A Low Oxygen Sensor
And Automatic Shutoff

Keep the heater away from the shelter fabric
Open the ventilation flaps on your shelter, or
Keep your shelter windows slightly open
Recommend using a small battery-operated carbon monoxide detector near the floor or ice tub
Follow the manufacturer's directions to light the propane heater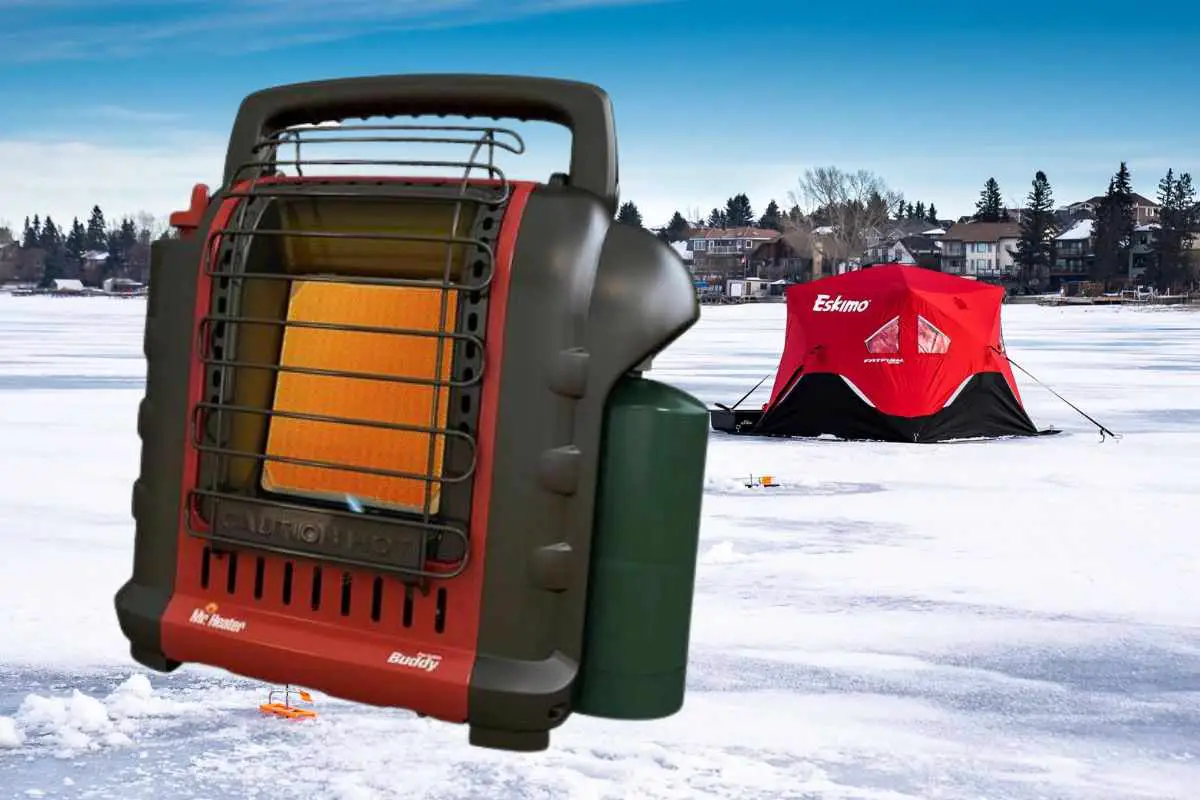 Heating an Ice Fishing Shack the Best Way
I've fished with folks who have used Sterno cans as a heater and to cook with. And others have used Coleman Lanterns as a heater for smaller tents! Though neither is recommended!
A portable propane heater is the best heater for a shelter. I currently own two heaters. A large one for my popup shelter and one smaller unit for my flip-over shelter.
Deciding between a hub-style and a flip-over shelter is explained in another article on my site.
The three main reasons for a propane heater being the best are:
1) Safety
A Portable ice fishing heater is far safer than other methods of heat for an ice hut. In addition, white fuel (Coleman Lantern Fuel) stoves are messy, and the fuel can ruin gear when it comes in contact.
Propane heaters typically used for ice fishing have a wide base to prevent them from being tipped over. (Having one tip over and melt a large hole in your new tent wall or expensive ice suit make for a bad day!)
Quality heaters from major manufacturers will have built-in low-oxygen sensors and automatic shutoffs. A portable heater should always have both features to protect you and your gear from mishaps.
2) Reliability
With push-button igniters, a propane heater will light and begin warming your shelter immediately!
Most smaller heaters have a Low and Hi setting to adjust the temperature and one heating element plate. Larger heaters have two heating plates.
Periodic maintenance of any dirt or grime from the thermocouple and pilot light assembly will keep your heaters running efficiently and safely for many years.
3) Convenience
The best part of ice fishing with a portable propane heater is the convenience of their use!
You can use small 1lb green bottles found just about in every bait shop, gas station, or discount store. Or up to 20lb and larger propane tanks for all-nighters and weekend trips!
It is easy to carry a few extra 1lb bottles in the bottom of your flip-over or ice fishing sled. They take up very little room and are relatively inexpensive.
Be sure to dispose of them properly, and please don't leave used bottles on the ice for others to pick up!
Is a Portable Fishing Heater Safe for an Ice Fishing Shelter?
With proper use, a portable heater is safe to use inside your ice shelter. Be extra safe, use a battery-operated carbon monoxide detector when inside your tent for long periods, and open any ventilation tabs for fresh air. Keep the heater away from items that may melt or burn.
Heating an ice fishing shelter with propane and doing so safely only takes a few steps!
Keep the Heater Away from Items and Tent Fabric.
A Heater can generate a high enough temperature that anything close to them may melt or catch fire.

Open Ventilation Tabs and Windows, or Leave the Zipper Open near the Bottom.
Doing this allows fresh air and oxygen to ventilate your ice fishing tent. This helps the propane burn cleanly, and the fresh air is good for you.

HIGHLY RECOMMEND A PORTABLE CARBON MONOXIDE DETECTOR!!!
For a few extra dollars, a small carbon monoxide detector is added protection to detect this gas in case your low oxygen sensor isn't working correctly.

My choice is the Kidde Carbon Monoxide Detector. It is inexpensive and trusted by many.


Follow the Operating Manual. 
If not handled properly, a heater can be dangerous when dealing with propane gas and flames. Familiarize yourself with the operation of your heater at home before heading to the ice.

Be Alert and Aware
Always remain alert and aware of your heater, especially if staying overnight in one. You can easily trip or knock over your heater when entering or exiting your shelter when checking tip-ups.

Sleeping in an ice fishing tent is something you may want to try! Fishing overnight with a group in one or more large hub-style popup tents can be a blast!

How Long Does a Portable Propane Heater Last When Ice Fishing?
The portable propane heater I recommend and use is a Mr. Heater Buddy. So I'll use Mr. Buddys to give you an idea of how long you can expect a heater to last.
A portable propane heater can burn between 4,000 and 9,000 BTUs. They will burn approximately 1lb of propane in roughly 5 to 6 hours. Variables such as outdoor temperature and wind can fluctuate these numbers, and a 1lb green bottle may not burn all its propane when the bottle is cold.
Here's a quick table chart of the top three popular Mr. Heater portable propane heaters for comparison:
Model
Big Buddy
Buddy
Little Buddy
Settings (BTU)
4000 BTU
9000 BTU
18000 BTU
4000 BTU
9000 BTU
3800 BTU
1lb Bottle
5.4 Hrs Low
2.4 Hrs Med
1.2 Hrs Hi

5.4 Hrs Low
2.4 Hrs Med
5.6 Hrs
1lb Bottle (2)
10.8 Hrs Low
4.8 Hrs Med
2.4 Hrs Hi
N/A
N/A
20lb Bottle
100 to 220 hrs
100 to 220+ Hrs
N/A
Run Times for Mr. Heater and Similiar Sized Propane Heaters
Final Thoughts on Keeping Your Fishing Tent Warm
It isn't very often I'll set my shelters up unless I'm fishing with friends or taking their kids along. I tend to move around the ice quite a bit, and my Ice Armor suit keeps me warm.
But when the sun goes down, the wind picks up, and the wind chill begins to drop, having a nice warm shack to sit in on a barren ice-covered lake is a great feeling!
And for sheer ease of use and safety, the Mr. heater Buddy Series is a great choice. Use them safely and how they were intended, and you'll only need to invest in one (I have two, the Buddy and Big Buddy) as they will last for many seasons!
Have fun, and stay safe out there!