This post contains affiliate links.
When you ice fish more than a few times a season or bring along kids, you'll want to get out of the weather. Choosing a tent can be confusing. So is an insulated or non-insulated ice fishing tent better for you?
Insulated ice fishing tents are a better choice than non-insulated tents. They are easier to heat, have fewer condensation issues, and offer more cold protection. While non-insulated ice fishing tents cost less, are lightweight, and are easier to transport, insulated ice fishing tents are superior.
I have owned many ice fishing shelters over the past thirty years, some good and some bad. Some insulated some not.
Below you'll find a table breakdown of the primary differences between the two choices:
| | | |
| --- | --- | --- |
| Comparison | Insulated Ice Fishing Tent | Non-Insulated Ice Fishing Tent |
| Price/Cost | Costs more | Costs less |
| Weight | Heavier | Lighter |
| Easy to Heat | Yes | No |
| Protection from Cold | Yes | No |
| Windproof | Yes | Yes |
| Water-Resistant | Yes | Yes |
| Condensation Issues | No | Yes |
Comparing Insulated Vs. Non-Insulated Ice Fishing Tents Table
As you can see from the above Comparing Insulated Vs. Non-Insulated Ice Fishing Tents Table there are a number of significant differences between the shelters. I'll go through those in more detail further below.
Are Insulated vs Non-Insulated Tents and Shelters Better?
I believe when comparing an insulated vs non-insulated ice fishing shelter, an insulated shelter is far superior to a non-insulated one. And I have owned and have been fishing in both types.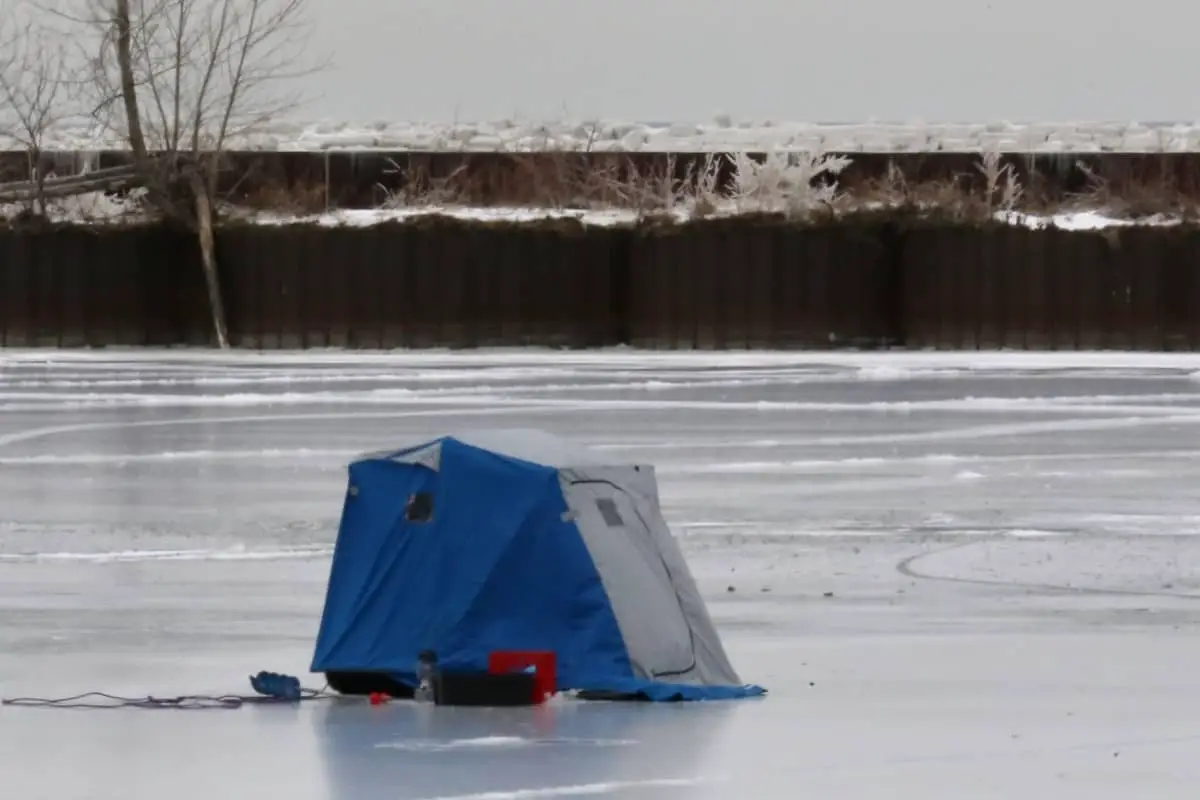 If you're considering sleeping in an ice fishing tent I would definitely choose an insulated model!
Keep in mind that there is nothing wrong with a shelter that isn't insulated! But deciding between the two, there is no comparison that the insulated one will be better for you over the long haul!
Difference in Price and Cost
When discussing the difference in costs, the insulated model will undoubtedly cost more than a shelter that isn't insulated. The one-man Clam Kenai Pro Thermal flip-over costs 26% more than the uninsulated version of the Kenai Pro.
To give a comparison for a two-man hub-style popup shelter, the insulated Clam C-360 Thermal Hub Shelter costs approximately 22% more than the uninsulated C-360 popup.
It's pretty apparent that adding additional features like insulation to the ceiling and walls of a fishing shelter will add additional costs to your purchase.
Overall, the difference between the two choices will amount to approximately 20% to 30% and slightly higher depending upon the specific insulated shacks you are comparing.
Difference in Weight
Weight can be a considerable variable if you are carrying or pulling your gear on a sled behind you or using an ATV or sled.
The insulated Jason Mitchell 5000 Thermal I currently use weighs around 50lbs but will house 4-6 fishermen. That adds significant weight to your load!
Smaller insulated one-man flip-overs are easier to pull behind you when walking, even though they often weigh more than an insulated six-man popup!
My insulated popups always seem to have ice and snow stick to them, and when the heater is on inside the tent, they'll wick up and hold the water that melts.
The water adds additional weight to the insulated tent over the non-insulated models that don't collect and hold as much water.
And once they freeze, insulated hub-style are cumbersome to fold back into a carrying bag and later become difficult to set up!
Which is Easier to Heat
Insulated and thermal vs other models when it comes to heating is a no-brainer! Go with the insulated shanties!
Thinner single-wall fabric will not hold any heat in, and as the heat rises toward the ceiling, it will escape through the material.
You will spend more money on small green 1lb bottles of propane to run your smaller heaters, and you will go through significantly more propane if you're using a 20lb bottle.
Which Has Better Protection From the Cold
When I speak of "cold," I'm talking about the average temperature of the air outside and how it impacts the air temperature inside your shelter.
Non-insulated fabric will allow the cold temperatures to pass right through, and you will certainly feel the cold. The warmth will easily escape from inside the tent when running a heater.
Insulated shelters will retain body heat and warmth from any heat source and not allow it to escape outside!
I've felt the most significant difference is fishing when the sun is shining on the tent. An insulated ice shanty will keep the heat from the sun inside (solar heat) and hold the heat longer once the sun goes down.
While a non-insulated one remains cold throughout the day, you can feel the temps drop too once the sun goes down!
Which is More Windproof
As far as being windproof, both types of shanties offer excellent protection from the wind.
The key point is the anchoring system and how strong the setup poles are. Having a flapping tent can become annoying after a few hours!
If you fish in the better weather and only need to step out of the wind, one that isn't insulated will suffice. The wind can cut through your clothing and you become cold faster.
Which is More Water-Resistant
As long as you own or choose an ice fishing tent from a top company in today's market, they are all considered water-resistant.
The tent fabric will have areas that water may or may not enter through as the fabric ages, become creased, or receives small holes and tears.
Stitched areas and seams are the prominent points water will intrude, and you can proactively keep this from happening.
Read more on waterproofing your ice fishing tents in another post on my site.
Which Has More Condensation Issues
Condensation issues or "sweating" on the interior sections of fabric is an ongoing issue with many.
When you breathe or have a portable heater running, they create water vapor that rises.
The water vapor is warmer than the cold fabric, so it turns back into water droplets when it hits the material. Water droplets create a colder and damp fishing environment inside your shack.
Although both types of material will suffer from some condensation, the non-insulated one will be significantly worse!
Easiest Way to Insulate an Ice Fishing Shelter
Pro Tip: Installing a section of flexible Reflectix foil insulation in the ceiling will significantly make a difference in warming a shelter.
Reflectix insulation is easy to cut and fit into your ice shack and will fit nicely above the aluminum hoops holding your tent up. Check the price on this 24″ x 10′ roll on Amazon to warm your shack!

Reflectix Series Foil Insulation
Is an Insulated Ice Fishing Shelter with Floor Warmer
EVA floor tiles will keep water from forming on top of the ice, turning into water vapor and then water droplets.
In addition, having tiles on the floor in your tent gives you a great place to keep your boots warm and dry!
You will find a terrific EVA tile on Amazon that is economical and simple to carry and use.
The floor tiles will certainly add to the warmth of your shack, and you can use them to place your fish finders or portable heaters on them.
They are lightweight, and you only need to carry a few of them if you don't want to cover the whole floor.
Final Thoughts
When you're fishing in the winter, and the temps are colder, I would certainly opt for the insulated fishing shack for the extra money involved.
An insulated shelter's primary reason is to keep you comfortable and fish longer! Fishing longer gives you ample opportunity to land that trophy fish!
If you fish in a tent that isn't insulated, try adding a section of Reflectix to the ceiling. You'll be satisfied you did!
Also, take a quick look at my articles on the biggest ice fishing tents and shelters for more options and ice fishing shelter floor ideas.
Have fun and stay safe out there!