This post contains affiliate links.
When you're trying to get on or off the ice, especially late ice, the first few feet between the bank and ice can have an area of open water. It's nice knowing your gear will remain dry and protected with a sled that can carry your fishing gear! Especially if it will float your gear!
Ice fishing sleds will float when the gravitational weight (downward force) is less than its buoyancy (upward force). Therefore, an ice sled will float if it weighs less than the amount of water it displaces. A smaller sled displaces smaller amounts of water and will float a lighter load than a larger sled.
Several factors are involved when it comes to your ice fishing sled floating all your gear across open water. Some of which are scientific reasons and others are more common sense type of stuff!
What Size Sled for Ice Fishing
An ice fishing sled will float more weight and fishing gear as it displaces more of the water beneath it. The more water that is displaced, the more upward force and buoyancy you will have. A larger sled will float more than a smaller sled will, but there are trade-offs too!
Ice sleds will carry quite a bit of gear depending upon the size of sled you have. The caveat here is you want to travel as light as possible when you can. And if you get a smaller-sized sled, you'll soon wish you had a larger one!
And when you have a larger sled, you'll find out most of the time you'll carry more gear than you need. Carrying more gear equals more weight which means more effort is required to pull it!
The most popular ice fishing sled is probably the Shappell Jet Sled. It comes in various sizes and is conveniently sold in many of your local sporting goods stores. They are lightweight, durable, and a good value for the money!
Jet Sleds start out quite small and grow to a size I'd rather not have to pull very far!
| | | | |
| --- | --- | --- | --- |
| Sled | Length | Width | Area |
| Jet Sled Jr | 43″ | 21″ | 6.27 Sq Ft |
| Jet Sled 1 | 54″ | 25″ | 9.37 Sq Ft |
| Jet Sled SUV | 44″ | 32″ | 9.77 Sq Ft |
| Jet Sled XL | 66″ | 31″ | 14.20 Sq Ft |
| Jet Sled Mini Magnum | 60″ | 45″ | 18.75 Sq Ft |
| Jet Sled Magnum | 71″ | 45″ | 22.18 Sq Ft |
Jet Sled Dimension Table
As you can see from the table above, there is close to 3.5 times more room in the Jet Sled Magnum (22.18 sq ft) to carry gear than the smallest Jet Sled Jr (6.27 sq ft)! Having
I often move to different fishing spots on a lake and will stand while fishing. Bringing along a folding chair isn't important for me. Having a few candy bars in my coat pocket keeps me fueled for the day too. So a cooler with food and drink isn't necessary for me either.
Having chars to sit on and plenty of food along may be important to you. There is no correct or incorrect choice to determining which sized sled you need. Choose the sled that is appropriate for your style of fishing!
Personally, when early in the season and using my four-wheeler or snowmobile isn't safe, I'll walk long distances on the ice. I traveled with more gear than I actually needed in the past, and over the years, I have learned to travel as light as possible!
Use the smallest sled you can and carry only the gear you need for the day of fishing. Once you move to a larger sled, I guarantee you will bring too much gear, and pulling a heavy sled around can ruin your day!
How Much Weight Will an Ice Fishing Sled Float
Ice fishing sleds are designed to haul your fishing gear across the ice and not to float. But like the rest of the outdoorsmen, we tend to push ourselves and our gear to extreme limits when ice fishing!
I have used a Jet Sled Jr to cross about nine feet of open water between the shore and the good ice. To span the open water, we placed planks across it. My gear at that time included: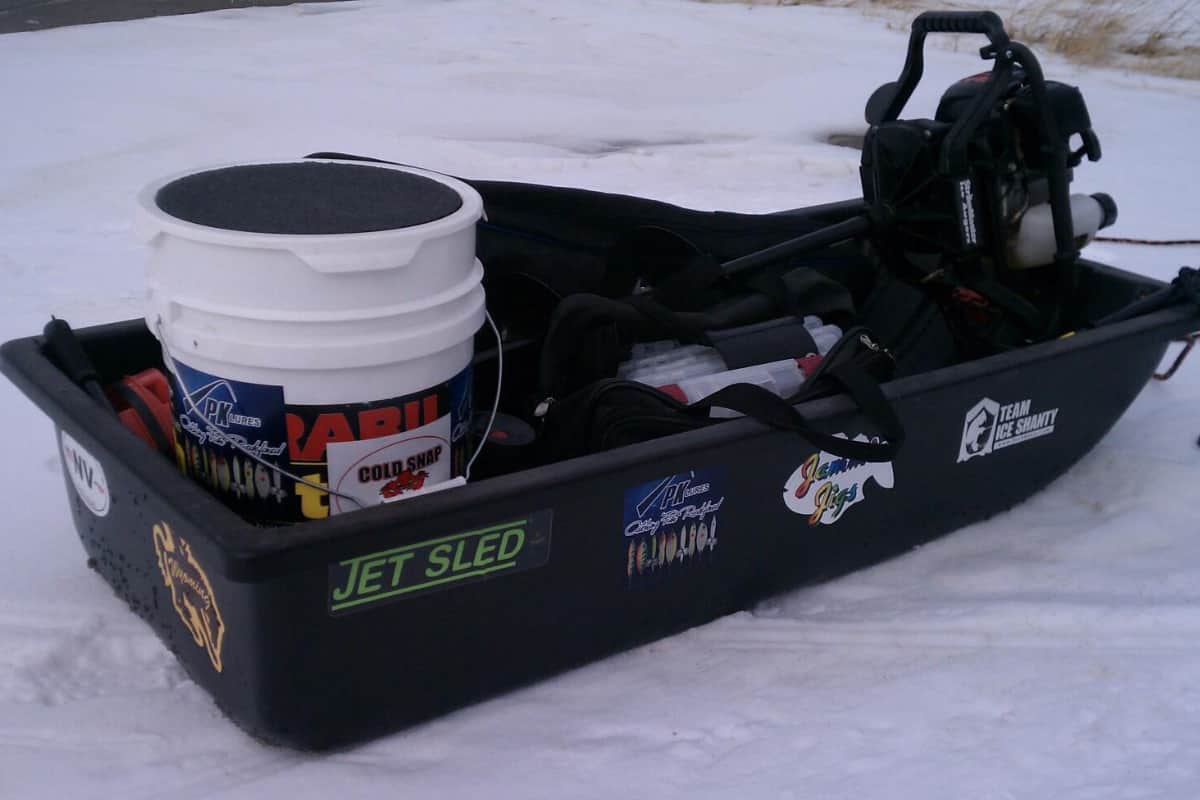 8″ Strikemaster Honda 35cc 4-Stroke Auger (23 lbs)
Vexilar FLX-20 Pro Pack (13 lbs)
Two soft-sided tackle storage bags full of spoons and jigs
One 5 Gallon Bucket
Assorted tube baits
Four ice rods
A couple of bottles of water
Extra gloves, hat, sunscreen, and misc. small items
Overall, I would say I had roughly forty pounds in the sled. Now, I can't speak for how much the larger sleds will float, but really, what else do you need to have with you?
When traveling light while ice fishing, you should be able to float your ice sled for a short distance. Remember, since sleds are flat-bottomed, they do not track well. It would be best if you had your gear balanced and as close to the center as possible.
I place my auger down the sled's centerline, and the rest of the equipment is set around the auger. Sleds are very tippy, and if you have too much weight to one side, it may flip over.
Pro Tip: An 8″ K-Drill (5 lbs) with a Milwaukee M18 Fuel Drill (3.2 lbs) will lighten your auger weight considerably! Currently, this is my go-to auger system! A 65% weight savings and no more gas smells or spills!
Much depends on the total weight and how much gear you have in it for an ice sled to float. Use common sense, and do not overload your sled!
How Do You Make an Ice Fishing Sled Easier To Pull
Let me begin by telling you I pulled a Jet Sled Jr around for years while ice fishing until I got too "old" to pull it all day long! I would even pull my sled while hiking into the Cloud Peak Wilderness of the Bighorn Mountains, searching for good remote fishing areas!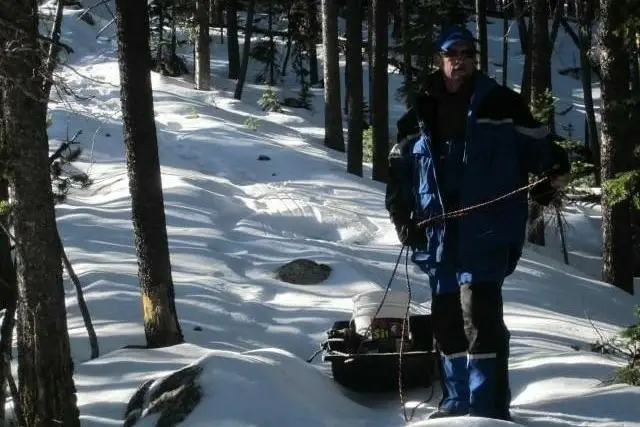 When I finally became "old", I graduated to a 700cc Arctic Cat Alterra! Although I still use my ice sled quite often on early and late ice! Here are a few ideas to make pulling your sled a lot easier!
Upgrade to a Longer Pull Rope
The very first thing you want to do is throw away the rope that comes with your sled! It is far too short to pull your sled properly. A short rope gives you very little leverage, and the sled is constantly banging against the back of your feet!
Another disadvantage of the shorter stock rope is that you always feel like you're lifting the sled's front-end! It becomes tiresome to drag and not pull the sled over the course of a day!
Rope length can be a personal preference, and I use 17′ of rope as a minimum! When it is attached to the sled, 17′ of rope will give you about 8′ from you to the sled. The longer rope allows for a more "level plane" of force to pull your sled.
The pull-rope is not so long you lose control of your sled, yet not so short, the sled is continually bumping into you. I also like to attach eyebolts through the hole you're supposed to tie the rope off into.
Install HyFax Runners for Better Pulling
HyFax runners are installed onto the bottom of your sled. You can purchase HyFax and cut your own to length or get them from the sled manufacturer. Shappell refers to them as 'Sled Wear Bars'.
The advantage of using them when pulling is the sled will track straighter, and they also give the sled a little lift off the snow. Less contact with the snow means less drag, and that means less effort for you to pull the sled!
HyFax and Wear Bars will also lengthen the life of your sled. When dragging on rough ground or parking lots, all the wear and tear will be on the HyFax and Wear Bars, and not your sled!
Build a Smitty Sled for Snow and Slush
Since I pulled the small Jet Sled Jr and never had a ton of gear with me, I never built a 'Smitty Sled' although I did consider it!
A Smitty Sled, simply put, are two skis with a framework to keep your sled or flip-over shelter up off the snow and slush. If you do haul a lot of gear or use an extra-large ice fishing sled, then this is absolutely the thing for you!
Here's a quick and dirty video of how to build your won Smitty Sled. Keep in mind there are many variations, and people customize them all the time to fit their own needs!
What Is the Best Ice Fishing Sled
Ice fishing sleds come in many sizes and price ranges, and you'll want to consider the abuse yours will take when deciding upon a sled to purchase.
Otter Pro Ice Fishing Sled
Otter makes a tough, durable, high-quality ice fishing sled. They are also heavier than most of the competitor sleds.
If you'll be dragging yours through rough ground and parking lots quite a bit, the Otter Pro is the sled for you. It comes in six different sizes to match whatever it is you want to haul onto the ice!
The Otter Pro Sled has a raised back to keep items from falling out while you're pulling it. The lips of the sled are reinforced to hold ties, bungee cords, and rope better. The overall build gives it solid sidewalls too.
Shappell Jet Sled 1
As stated earlier, Shappell sleds are available in almost every sporting goods store. In my opinion, they are pretty strong and durable and maybe not as tough or as thick as the Otter sleds are.
Since I am good with a lighter-weight sled, this works well for me since I tend to travel and fish light when walking out on the ice!
For the average person out ice fishing, you'll probably carry more gear than I do. So stepping up to the Jet Sled 1 would probably be a good option for you. An ice fishing sled is better to be slightly larger than it is too small!
When ice fishing with a buddy, spouse, or friend, you may want to consider a slightly larger sled to carry the person's rods and gear. The Jet Sled XL would be a good choice.
Shappell Jet Sled Jr
Now the Jet Sled Jr is my favorite ice fishing sled. I don't carry an awful lot with me and what I do carry fits nicely in this sled!
Having a larger sled, I'd want to fill it up with non-essential gear. Then it becomes too heavy to pull unless you build a Smitty Sled, then I'd have to deal with transporting that also!
With a long rope attached and using eyebolts, I can easily walk within reason anywhere on the ice I want to go and fish! The Jet Sled Jr is my go-to sled, and if you fish light, you'll like it too!
Have fun and stay safe out there!