This post contains affiliate links.
Choosing the right fishing reel for your type and style of fishing will make you more successful on the ice!
Ultralight spinning reels in size 1000 or 2500 are the most commonly used reel when ice fishing. The 1000 reel is best suited for smaller fish such as perch, trout, and most walleyes. A 2500 size reel is often chosen for heavier fish when line capacity and a more reliable drag system are preferred.
Even though most spinning reels will work fine, knowing certain facts about reels, other than which size reel to use, will make you a better overall fisherman. We'll go over some of the fishing reel basics below to get you started!
How Do You Know What Size Reel You Need?
The size of the spinning reel needed is determined by the diameter of the fishing line you intend to use most often. Larger diameter lines take up more space on the reel arbor, while smaller lines do not need as big an arbor. The maximum drag force in lbs will also dictate reel choice.
When ice fishing, most fish people target are small to medium-sized fish. The fishing lines are often in the 2-4lb range, and a small reel can hold 150+ yards of this line.
As you move up to target heavier fish like lake trout, salmon, and large catfish, using a larger diameter line with a higher test of 20lbs+ will require a larger reel to hold an adequate amount of line.
The same holds with the maximum drag force. Smaller reels will have a drag less than 10lbs, while larger reels will have drags higher than 10lbs.
Fishing for bigger and harder fighting fish will require larger arbors to hold the line and a heavier drag to fight the fish. Think of it this way, the larger the fish, the bigger the size reel you're going to want to be using.
For the most part, a solid-sized 1000 to 1500 size reel will be sufficient for most of your fishing excursions. For myself, I generally use size1000 for smaller panfish and trout and step up to a size 1500 to 2500 for larger specimens.
I own several 3000+ reels and have only used them for very large lake trout go deep and make very long runs peeling a lot of line out on each run. You'll need plenty of line to fight and land a larger lake trout!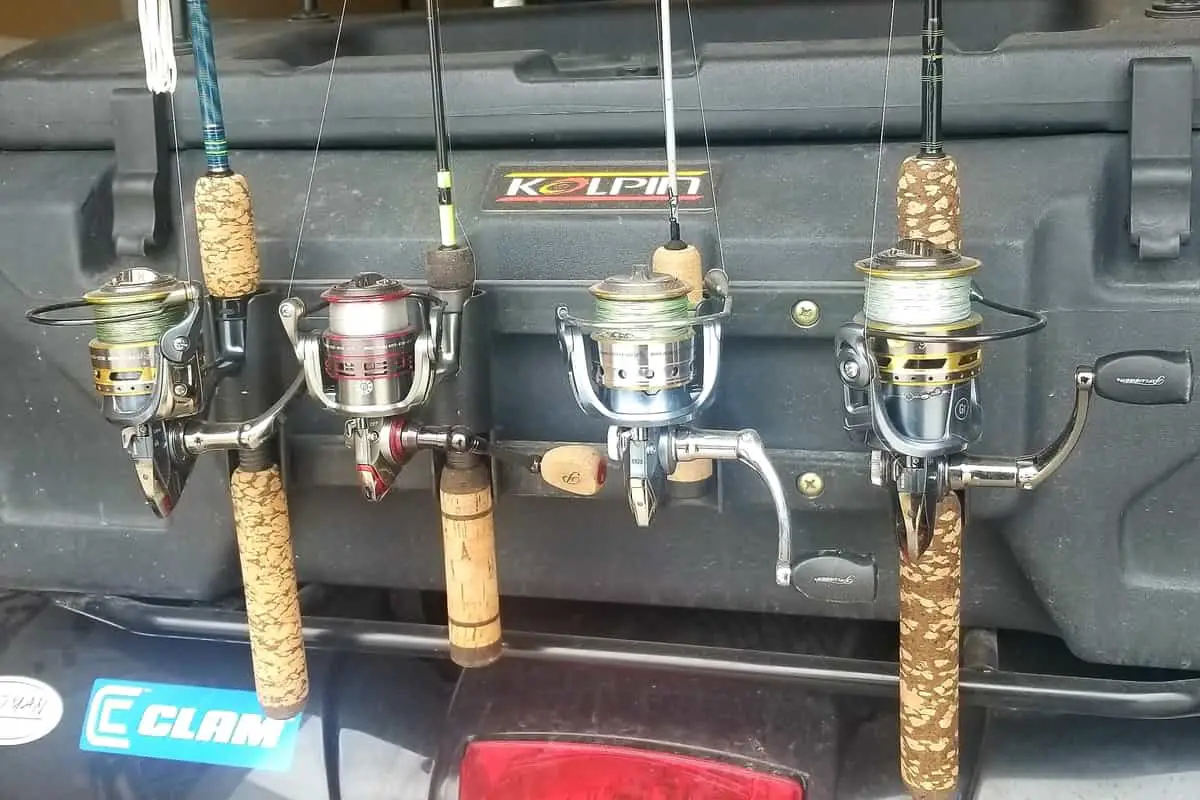 The chart below will give you an idea of what size reel to consider for various fish you may want to target. Keep in mind the larger the fish become in your waters, stepping up a reel size is a good consideration.
| | |
| --- | --- |
| Micro Reels | Bluegill, Black Crappie, White Crappie, Redear Sunfish, Redbreast Sunfish, Spotted Sunfish, Pumpkinseed, Warmouth, Green Sunfish, Whitefish, Yellow Perch |
| Size 1000 to 1500 | Bluegill, Black Crappie, Burbot, Catfish, Lake Trout, Largemouth Bass, Smallmouth Bass, White Crappie, Trout, Walleye, Whitefish, Yellow Perch |
| Size 2000 to 3000+ | Burbot, Catfish, Lake Trout, Largemouth Bass, Musky, Northern Pike, Salmon |
A micro reel will handle up to a 16″ crappie or jumbo perch. For larger fish, look at a reel the next size up.
A 1500 or 2000 reel would be overkill for the similar smaller fish, and when fishing for hard fighting larger catfish, you most likely would want to step up to a 3000 series reel.
Do You Need a Special Reel for Ice Fishing?
As a general rule, you do not need a special reel for ice fishing. Any of the smaller summer reels will work fine. Most ice anglers have separate fishing reels and rods they use for summer and ice fishing. The most popular ice fishing reel is a small palm-sized reel for perch, panfish, and walleye.
There is a very important tip for keeping your reels serviced and working smoothly when you're on the ice. Once I had a reel not working correctly while out on a lake, and a buddy fixed it right up for me!

You can check that tip out in my article Are Ice Fishing Reels Different? (Don't Miss This Tip!)
What Reel Should You use for Ice Fishing
The most common ice fishing reel used is a spinning reel. Spinning reels come in a variety of sizes, from ultralight to heavy-duty. Drop-down or in-line reels have become increasingly popular with panfish fishermen since they impart very little line twist for a more natural bait presentation.
What Should You Look for in an Ice Fishing Reel
With the freezing and harsh elements, look for a reel made from stainless steel or aluminum. Plastic parts tend to break or become damaged with the beating they take on a cold winter day.
Look for a reel with a smooth drag. Generally peaking, higher-priced reels tend to have smoother drags and more ball bearings, giving you a better feel when fighting fish.
Can You Use Any Spinning Reel for Ice Fishing?
As long as the spinning reel is sized for the fish you target, you can generally use any spinning reel you like. Smaller reels from micro's to ultralights, size 1000 to 1500, are best for bluegills, perch, panfish, etc.
Slightly larger reels in the 2000 size to 2500 size are best for larger fish such as trout, walleye,
If you target very large fish like lake trout, northern pike, or trophy-sized walleyes, a size 3000 spinning reel would be better.
What Is a 1000 Reel Size Good For?
A 1000 size reel, which some companies call a size 10, is best used for light-biting smaller fish. Spooled with lighter lines (1-4lb test), they are best used in clear water conditions while finesse fishing small jigs or baits. A 1000 size reel is a good all-around ice fishing reel choice.
I've caught many fish on a size 1000 reel, and for most of your ice fishing trips, a 1000 will suit you fine. The only reason to go with a larger-sized reel is if you'll be targeting larger fish like trophy-sized walleye.
Then I would recommend a 1500 to 2000 reel.
What Is the Best Line for Ice Fishing?
You can use a regular monofilament fishing line which was the most popular fishing line for many years. There has been quite a bit of advancement in fishing lines with new technology, especially lines for ice fishing.
Braids, fluorocarbon, and specialized lines designed exclusively for ice fishing are filling retailers' shelves and the reels of ice fishermen!
For more information on what lines you may want to choose and for what fishing application, take a quick look at Fishing Line: Ice vs Regular: What's the Difference? here on the site!
Final Thoughts
The largest ice fishing reel I own is a 2500 series, and it handles large walleye and lake trout adequately. I and many others have also landed large fish on the smaller 1000 series and lighter lines.
The key thing to have dialed in on your smaller reels is the drag setting when using lighter lines.
Overall, for general panfish, crappie, perch, etc., a 1000 reel is a good choice and will handle a larger fish when needed. But when targeting larger fish specifically, go with a 2500 series for a great battle!
Have fun and stay safe out there!