This post contains affiliate links.
There is a considerable difference between fishing in the summer and the winter when it comes to your equipment. Weather conditions and temperature can play a massive part in how your equipment performs and how you like to fish! Here's what you need to know!
Ice fishing reels are different from regular fishing reels as there is no casting involved. Inline reels impart no twist to the line for better lure presentations, and ice tournament anglers use Palm and Schooley reels for their sensitivity. Ice reels, today, are more advanced than previous reels.
Does this mean you need to have a special ice fishing reel to go and hit the ice? Certainly not! But with today's arsenal of ice fishing reels, you can improve your hook rate and land more fish than you would have, so read on!
Can You Use a Regular Fishing Reel for Ice Fishing
Many anglers have had their summer fishing rods all set up and have no desire to purchase special ice fishing equipment. Some have their favorite fishing reels and wonder if they need to do anything different with them for the ice!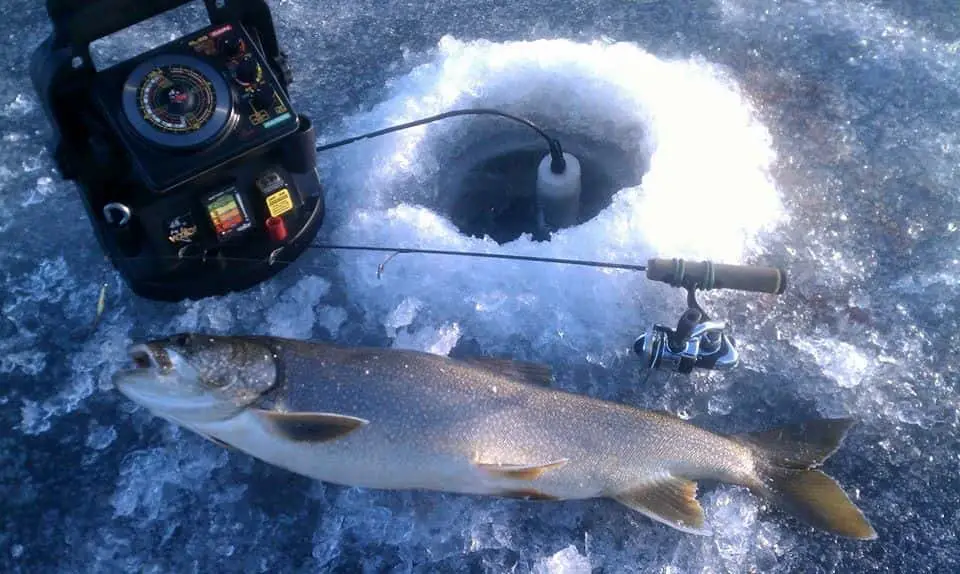 As a general rule, regular fishing reels will still work fine for ice fishing! Spinning reels normally used in the summer for panfish, walleye, and other species are well suited for ice fishing. Smaller spinning reels from size 1000 to 2500 are the most popular for ice fishing by many anglers!
Although you will see a few guys fishing with larger baitcasting reels from time to time, most ice anglers you see will be using their spinning reels. But now I see more ice fishing specific reels on the ice too!
Keeping Your Ice Fishing Reels From Getting Stiff
One of the more common issues with using your summer fishing reels while ice fishing is they tend to become stiff when reeling in line and fighting fish!
Fishing reels, when purchased, tend to come with a heavier grease lubricating the bearings and reel shaft. Once the temperatures drop, the viscosity of the grease will become thicker and heavier!
One ice season while staying in a cabin, I was having issues with a spinning reel and a buddy pulled out a little bottle of lubricant and solved all the issues! I've carried it with me ever since!
Tip of the Day!!! Save yourself a few headaches and carry a good lubricant along with you when you're out fish! It's cheap insurance to save the day on the ice! Check out Quantum Hot Sauce on Amazon!
To keep your ice fishing reels from getting stiff while ice fishing do this for your reels:
Loosen and remove the drag adjustment knob.
Remove the spool from the reel.
Crank the reel until the main shaft is fully extended.
Check the gears, clean off any heavy grease, etc.
Apply Quantum Hot Sauce to exposed gears and shaft.
Clean any dirt and grime from beneath the spool.
Remove the crank handle and lubricate with Hot Sauce as needed.
Now that's about all I do to my ice fishing reels once, maybe twice a year! Lubricate the shaft and the inside of the handles! If you're looking for a more detailed breakdown of cleaning and lubricating a spinning reel, then this is the video for you!
A good rule of thumb is to break down your fishing reels and give them a good going over at least once a year! Especially if you have a high-quality reel you;e spent some money on!
Five Common Types of Ice Fishing Reels
There are five types of ice fishing reels. Spinning, Inline, Schooley, Palm, and Baitcasting reels. You will most certainly see more spinning reels than any other out there followed by the newer inline reels!
Fishing reels, much like any other piece of equipment, is a matter of personal choice. Keep in mind there is really no right or wrong choice, but what works best for you and is comfortable in your hands!
Let's take a closer look at each type of reel and then you can decide which is the best reel for you!
Spinning Reels
Spinning reels, like the Piscifun Carbon X, which come in 500, 1000, 200, and 300 sizes, are the most popular types of reels and are seated underneath the ice rod.
They are unique as they have an open-faced spool design and a drag adjustment at the spool's top. There is a wire bail that spins/wraps the line around the spool when you reel in. To cast, you need to "open the bail" to cast the line out.
Inline Reels
Inline fishing reels, like the 13 Fishing Descent Inline Reel, are best at straight-line jigging down the hole! Since the line lays flat on the reel, there is no line twist when fishing. The result is your jig will not spin uncontrolled while fishing and spook any nearby light-biting fish!
Schooley Rod/Reel
A Schooley rod and reel is almost as "Old School" as you can get! Many 'Old Timers' and young anglers enjoy using the Schooley setup for its simplicity and sensitivity. It has a visual spring bobber to see the lightest of bites, and many panfish tournaments have been won with a Schooley rig!
Palm Reels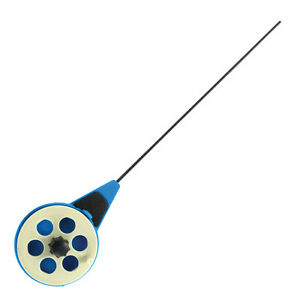 Palm rods and reels, like the Finland built Jonttu Sport Palm Rod, are very popular and used in the Nordic areas and Russian ice fishing tournaments! A large number of tournament ice fishermen in the U.S are using them as well.
The reel can be set at a predetermined depth so you can get right back down to the exact spot the fish are in with no haste!
Baitcasting Reels
I can't say as I've ever seen one of these HT Enterprise Mini Bait Casting Reels being used, but they are in almost every good bait shop or sporting goods store!
HT Enterprise has quality tip-ups I've used and other gear, but I have never used their bait cast reel myself, or has anyone I've fished within 30 years! Definitely, the spinning reels are the go-to reel of choice!
Custom Spinning Reels!
If you want to get pretty fancy, you can always find yourself a pair of custom reels! These are two Pflueger spinning reels I had custom painted for a set of charity auction ice rods!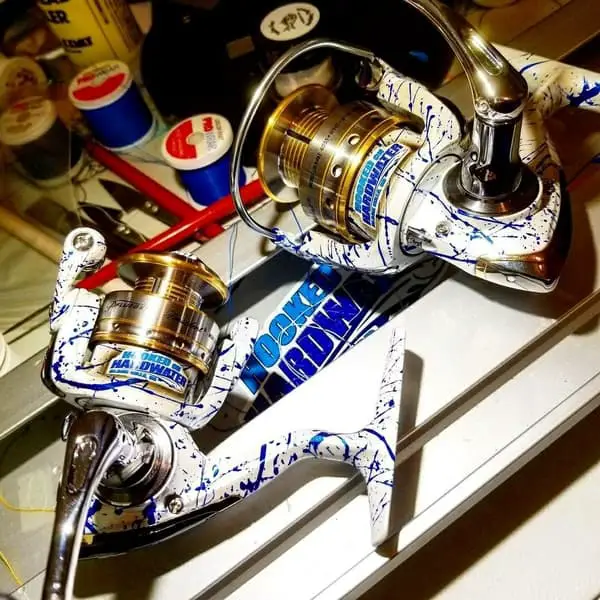 They were a matched reel pair for a custom walleye rod and a lake trout rod I built at Rodman Custom Rods, for a boys club fundraiser, The Club for Boys Hooked on Hardwater event.
By all means support your local Boys Club and local charitable organizations!
What Size Reel for Ice Fishing
When you hit the local sporting goods store, there are dozens of reels displayed! How do you know which one is for which type of fish you are targeting?
Spinning reels are sized from the smallest 500 Series to well over the 8000 Series for offshore fishing! When ice fishing, you will typically not exceed the 4000 Series, and for the most part, a 2500 Series is an excellent catch-all reel for most fishing!
Most manufacturers use the 1000+ standard sizing, although you will run into a few who only use the first two numbers. So a 1500 Series will be called a '15', a 2000 Series a '20', and so forth.
I've listed the most popular spinning reel sizes with their line capacity and fish species they are best suited for in the table below. My personal preference is to fish a lighter-weight rod and reel combination while you may like a heavier setup.
So use the table as just a general guide to steer you in the right direction!
Reel Size
lb/Capacity Yards
Fish Species
1000
Mono: 2/125
Braid: 4/150
Bluegill, Crappie, Smelt, Trout, Yellow Perch
2000
Mono: 4/100
Braid: 6/125
Bluegill, Crappie, Trout, Yellow Perch, Whitefish
2500
Mono: 4/110
Braid: 6/140
Bass, Burbot, Northern Pike, Walleye, Whitefish
3000
Mono: 6/145
Braid: 8/190
Bass, Burbot Catfish, Lake Trout, Northern Pike, Walleye
3500
Mono: 8/135
Braid: 10/220
Catfish, Lake Trout, Northern Pike, Walleye
4000
Mono: 10/230
Braid: 14/280
Large Catfish, Lake Trout, Northern Pike
Best Ice Fishing Reels for Panfish
With all of the high-tech ice fishing reels to choose from, choosing the one best ice fishing reel is a difficult choice!
The best ice fishing reel for panfish is one you are comfortable using. A 1000 Series spinning reel is light enough not to spook any panfish with a heavy presentation and strong enough to land larger fish. Inline reels designed to keep your jigs from spinning are top-notch reels as well.
My go-to reels of choice would be the Pflueger President in a 20 Series, although I have begun using the Piscifun line of reels and have found them to be durable and easy to use.
The Piscifun Flame Spinning Reel in a 2000 Series is hard to beat for the value to performance ratio, and it feels good in my hands!
As for inline reels, the Clam Graphite Gravity Reel is also a sweet inline reel value! Many of the guys I fish with this past year have had them in their rod bags!
Bottom line, as long as you're having fun any fishing reel will catch fish and work fine when you're out on the ice!
Have fun and stay safe out there!