This post contains affiliate links.
Ice fishing can be challenging, especially when selecting the right bait to improve your catch rate when fishing in cold conditions. Live bait is messy and slippery, requiring you to remove your gloves to rig the bait. Gulp minnows are artificial bait popular among anglers, but do they work for ice fishing?
Gulp Minnows work well for ice fishing. The dispersal of the scent in cold water is better than most other scent baits. The softer, water-based resin Gulp Minnows make them more flexible, giving them a more life-like appearance. Gulp baits can make a difference when ice fishing.
Gulp minnows offer convenience for ice fishing, and many anglers use this artificial soft bait in preference over live bait or chunks of organic bait. There are a few reasons for this preference, but the most important question we will discuss is whether they produce good results or not for ice fishing!
What Are The Advantages Of Gulp Minnows?
Berkley Gulp Minnows are different from most soft baits typically made from plastics. The Gulp range of soft baits are made from resins that are mostly water-based. The process makes Berkley's products more biodegradable than most other soft baits.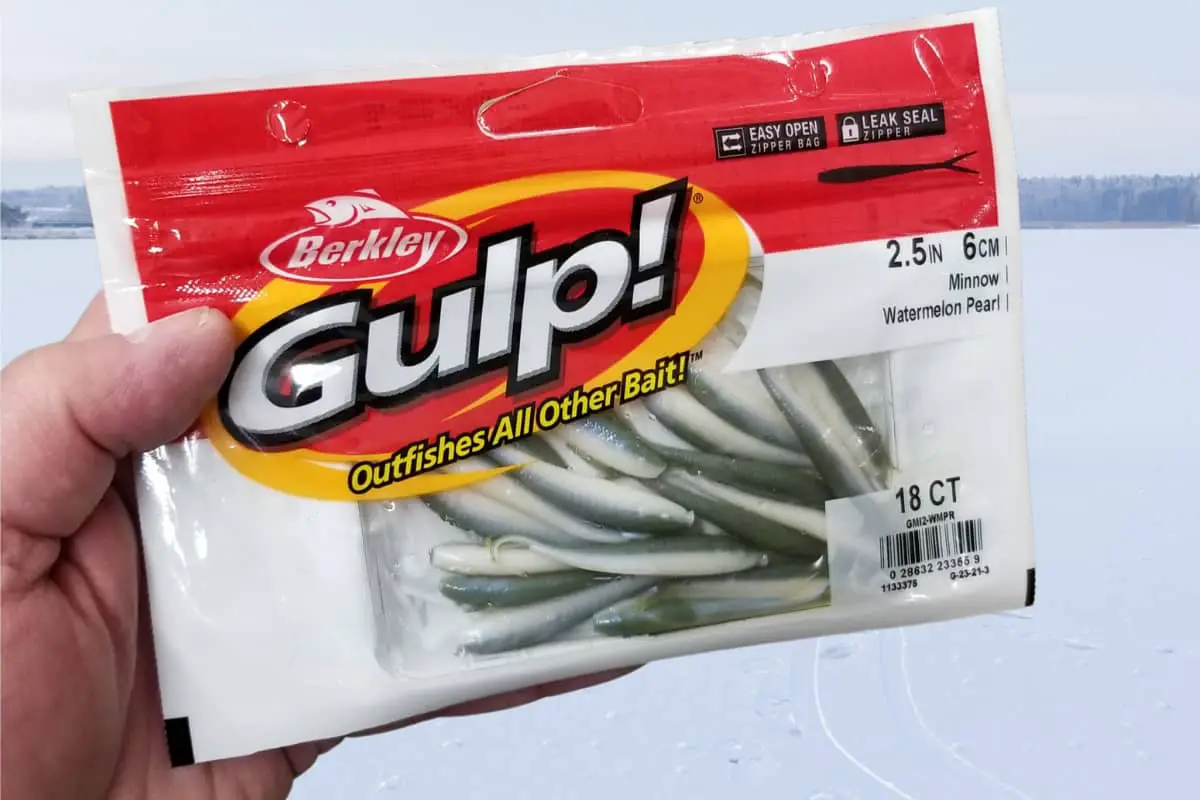 The water-based resins also produce a softer bait than most other soft baits, promoting a more realistic life-like movement of the bait.
Berkley has put time into developing their proprietary scent, which they say closely mimics the smell and flavor of live bait.
The company has also put much research and development into the dispersal properties of the scent in the water. According to their marketing material, the dispersal factor of their scent is 400 times more effective than other similar soft baits on the market.
Do Gulp Minnows Work For Ice Fishing?
Since we are talking specifically about ice fishing, do Gulp Minnows offer any advantage to fishing in the cold water under the ice?
Scent dispersal is significantly reduced in cold water due to fewer convection currents during the wintertime. The visibility in the water beneath the ice is reduced due to the blanket of ice limiting the amount of light that can penetrate the water.
These two factors make the scent factor of the Gulp Minnows a significant advantage in attracting predatory fish to your soft bait. The more realistic movement of the Gulp Minnows in the water also makes these lures more visible to fish in low light conditions.
The combination of the scent-release and the higher mobility of these soft baits attract the attention of fish that otherwise may not notice your bait.
In the features for Gulp Minnows, Berkley put their lures' extreme cold water scent dispersion as a characteristic that makes this soft bait the ideal bait choice for ice fishing! 
Why Gulp Minnows Are Useful In Your Tacklebox
The aspect of Gulp Minnows that works for me is the convenience factor out on the ice. I can pre-rig lines in the warmth of my home before heading out to the ice fishing spots and dropping the baits down once you drill the hole in the ice.
Do you catch fish with Gulp Minnows when ice fishing? Absolutely! Are they better than live bait and any other soft bait? Not necessarily!
As any angler knows, you need to have an entire repertoire of baits in your tackle box since what works today may not work as well tomorrow. You need to change your tactics and change up your bait when this happens!
On some days, Gulp Minnows will work right out of the gate, and you start catching fish. However, I have had days where they were unsuccessful, and switching to different bait instigated bites.
On other days, live bait does not work, and the fish don't seem to show an interest, but switching out to Gulp Minnows triggers the strikes!
But this is the way angling goes and the reason why Gulp Minnows are an excellent option to have in your tackle box, along with other options. 
Should You Use Gulp Minnows For Ice Fishing?
Marketing hype and bravado is one thing, but do the Gulp Minnows work in the field as advertised, or should you stick to using live bait or other products.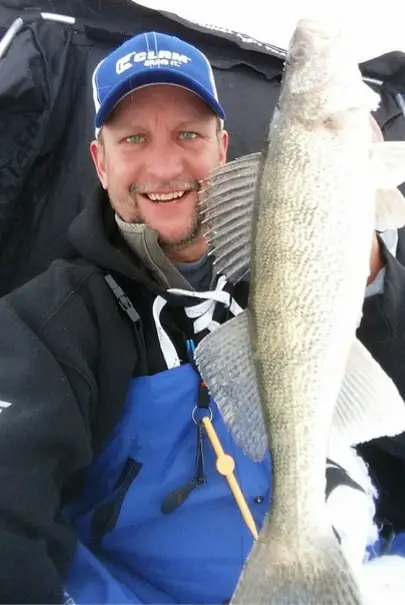 Berkley makes the bold claim that their Gulp Minnows will "out-fish any other bait," but I have found this to be an optimistic claim that is not always valid. Like any other lure, the success depends on the day, water condition, weather, and the fish's temperament.
Most anglers agree that Gulp Minnows work for ice fishing, but some disadvantages to using these soft baits.
Gulp Minnows are not the cheapest soft bait available, and they start to break up once they have had two or three hard strikes from fish taking the bait.
However, the Gulp Minnows definitely work for ice fishing, and you should definitely include a packet of these lures in your ice fishing strategy.
Who Makes Gulp Minnows?
Soft baits are not a new form of artificial soft bait, and they are available in various forms from different lure manufacturers.
Gulp Minnows, in particular, are a product of the Berkley Fishing company, a well-known manufacturer of quality baits, lures, and other fishing gear for the angling industry. (Visit the Berkley Gulp page here)
 Berkley first started experimenting with scented baits back in 1985, when they released their first commercial scented bait. At that time, the bait was marketed under the name Strike. Initially, the scent was a spray-on formula used to treat the bait.
Since then, much research has gone into scented baits until the "Gulp!" range of products was released in 2003, including the Gulp Minnow. With these new generation scented soft baits, the scent was no longer a spray-on formula but instead injected into the material of the bait itself.
Berkely makes some bold claims about their Gulp range of soft baits, including the Minnows. They claim that their range will out-fish any other bait, live or otherwise! 
Berkley also claims that the Gulp Minnows have 400 times better scent dispersion than competing products, which they claim also increases the strike zone for the fish by up to 400 times.
The company also claims that their scent formula more closely resembles the odors and flavor of natural bait, making fish more interested in the Gulp Minnows than other products.
This new formulation of injecting the scent into the bait made for a longer-lasting scent and an even release of scent into the water.
Conclusion
Fishing can be frustrating at times, and you never know what lure, strategy, or technique will work on any particular day! But this is what we love about fishing, the challenge to out-wit the fish and go home with a rewarding catch to fill our freezers!
Gulp Minnows are one tool that is useful to have available for ice fishing, but don't use it as the only strategy you take out on the ice with you! You never know what is going to work on the day!
Stay safe and have fun out there!