This post contains affiliate links.
Ice fishing is an increasingly popular pastime for seriously committed anglers. Many novice anglers would like to know whether the full moon does make a difference to bites and numbers of fish caught, so what are the facts of ice fishing during a full moon?
Full moon cycles affect ice fishing positively. Larger, lake-bound fish become more active with an overhead full moon. Game fish are nocturnal feeders, and when the full moon shines on the iced lakes, they rise from the depts to feed in shallower waters, making them easier to catch.
The two things standing between you and full moon ice fishing glory are determination and many layers of insulated clothing!
You have to ask yourself – am I willing to enter into a contest of wills with the fish beneath several inches of ice while sitting in a tent or shack in the middle of nowhere? If the answer is yes – please come on in;
Should You Ice Fish During The Day Or At Night During A Full Moon?
The ice fishing fanatics believe that the moon cycles affect ice fishing without any doubt.
There remain heated debates among fishermen, whether it is during a rising full moon or a descending full moon or if it's best to fish at night or during the day.
"Moon phases absolutely impact ice fishing!"

Brian "Bro" Brosdahl – Professional Fishing Guide
Max, Minnesota

There is about a 50/50 divide between anglers on night or day full moon fishing. The largest record-sized fish were all caught between 1 to three days before the rising full moon and on the night of the full moon.
The statistics leave no doubt that night ice fishing during a full moon does indeed yield bigger size catches.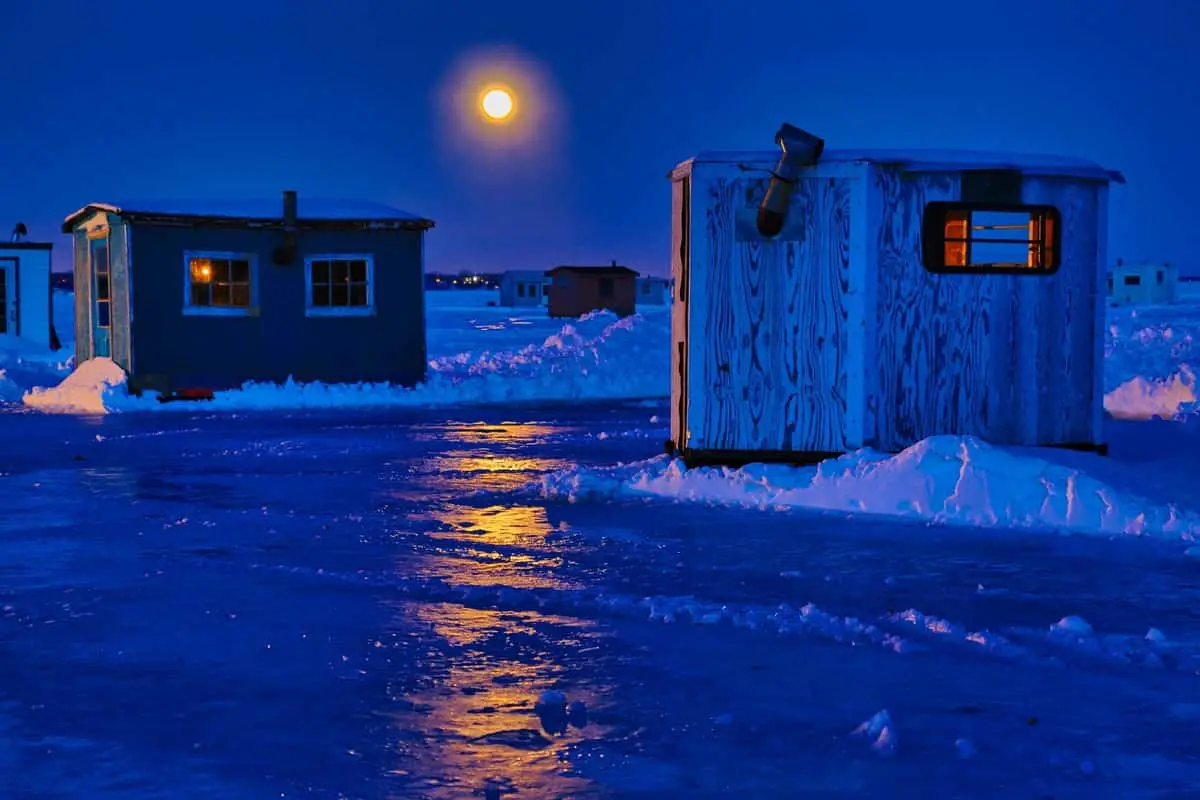 What Tackle Do You Need For Ice Fishing During A Full Moon?
You have now located the best position on the lake for your full moon ice fishing expedition, and you will need the correct tackle to catch fish successfully. The following list of tackle and essential items is what you will need;
"I'm a huge believer in moon phases underneath the ice for sure!"

Tony Roach – Professional Fishing Guide
Mille Lacs, Minnesota
An Ice Auger – There are a few varieties available from manual, electric, and laser. This will make a hole in the ice to fish through.
An Ice Scoop – This will help you scoop up the ice slush after drilling a hole with the auger. You will need to scoop the slush regularly to keep the hole open.
A Bait Bucket – This is typically around 5 gallons and will help your bait stay fresh and sealed.
Rod and Reel – A good medium-sized power rod- 28"- and a spinning reel combination will work well.
The line – A Fluorocarbon Ice Line is essential. It is thicker and heavier, allowing for less ice build-up.
An Ice Tent or Blackhouse – Essential if you are fishing through the night or extended hours during the day. This will keep you warmer and more protected from the elements.
Clothing – The correct clothing is essential so that you do not develop hypothermia. It would be advisable to always dress in layers because you will be sitting still for hours at a time.
A sharp knife.
A good selection of lures
Which Lures Work Best During A Full Moon?
Many lures are available, but some lures and baits will undoubtedly guarantee success during a full moon ice fishing session. The ten best lure and bait options are as follows;
Rapala Jigging Rap
Salmo Chubby Darter
The Makiplasti Craigi
Maggots
The CLAM Leech Flutter Spoon
Live Worms
The Lindi Quiver Spoon
The CLAM Time Bomb Spoon
The Northland Tackle Bro Bug
Live Spikes
One of the top reasons ice fishing during a full moon can be so successful is that you'll find an increased activity with insects and other food sources for fish. The increased insect activity brings out the predator fish to feed.
Several Ice Pros agree that fishing is better during one of these cycles, but other factors also come into play.
The moon affects the water currents
A higher degree of visibilty for the fish
Walleyes move shallower during a full moon
Larger fish are more impacted by moon phases than panfish
"There's more insect life and activities that bring crappies, and it schools fish, moves them around a little bit. But I think it makes it better for us anytime we're getting close to a full moon or after."

Brian "Bro" Brosdahl – Professional Fishing Guide
Max, Minnesota

After viewing the video below, there will be little doubt in your mind that getting out onto the ice and fishing during a full or dark moon cycle is a good decision! Check out what the top guys within the fishing industry are saying about full moon fishing:
What Safety Gear Should You Have When Ice Fishing?
When ice fishing during a full moon, whether at night or during the day, there are essential safety items you will need with you.
Please consider this for new or old ice conditions because they can change in an instant. You should have the following gear;
An ice chisel or Spud-bar to check the ice depth in front of you at all times.
A PFD, Life Vest or a full float-suit should be worn at all times
A good set of ice picks, worn around the neck for quick access. These can assist you in clawing back onto the ice if you fall through.
Ice cleats for your shoes to give you more grip on the ice and prevent you from slipping and falling.
A 2 way-radio or cell phone in a waterproof bag.
Emergency light or glow sticks.
What Should You Not Do When Ice Fishing During A Full Moon?
"Moonrise, moonset, at times new moons, it can definitely have an impact on catching some of the biggest fish of the season and it can also be the exact oposite."

Eric Haataja – Professional Fishing Guide
Milwaukee, Wisconsin
Ice fishing can be a risky sport and pastime. An iced-over lake, however solid it may appear, can be a dangerous place to fish.
The following list of things is a guide to activities you should not do when you plan to spend long hours on the ice;
Do not drink too much alcohol, as being inebriated can impair judgment
Do not trust the ice without checking the solidity
Do not drive on ice, even if there are people in the same area
Do not fish on your own
How Much Ice Is Safe For Fishing?
Typically, most professional anglers and professional ice fishing guides prefer a certain thickness of solid ice beneath them before they will consider walking or using a snowmobile on the ice.
The preferred safe ice thickness is as follows;
Walking – Small to medium-sized people – 3 inches of solid ice
Walking – Medium to larger sized people – 4 to 5 inches of solid ice
Using a snowmobile – 6 to 8 inches of solid ice
For an ice shack or darkhouse – 8 to 12 inches of solid ice
Using a vehicle – a minimum of 12 inches of solid ice
Most experienced ice anglers prefer to stay closer to the shallows even if the ice is good and stable. There is always a lot of activity close to shore during a full moon as the prey will also be more active.
Which Fish Species Can You Catch When Ice Fishing During A Full Moon?
Depending on where you are located, various fish can be caught when ice fishing during a full moon.
The bigger fish of the species tend to be more active from three days before the rising full moon cycle. The typical types of fish you can expect to reel in during a full moon are;
"A little bit of moonlight can change a feeding behavior and shut the day bite off."

Joel Nelson – Joel Nelson Outdoors
Northern Pike
Walleye
Rainbow and Brown Trout
Steelheads
Bluegill
Perch
Sunfish
Conclusion
Ice fishing during a full moon has consistently produced a good yield of larger-sized fish of species like Pike, Trout, and Walleye.
According to the records, when ice fishing during the full moon cycle, you are more likely to catch fish for the pan or one for the record books.
Have fun and stay safe out there!