This post contains affiliate links.
Ice fishing suits can cost a lot of money, and believe me; they are worth every penny! There's no reason a good set of ice fishing coat and bibs shouldn't last you many years when taken care of properly.
It doesn't matter what brand you own, Clam Outdoors, Eskimo, Frabill, or Striker. They will last you longer when they are kept in good condition.
A quality set of ice fishing clothes may set you back $400 to $500 for some suits! Why would you want to keep them covered in fish slime all season long?
Keeping cold-weather gear in the best shape means I wash mine at least once or twice during the ice fishing season and then again at the end of the season before I store it away.
9 Simple Steps for Washing Your Ice Fishing Bibs and Coats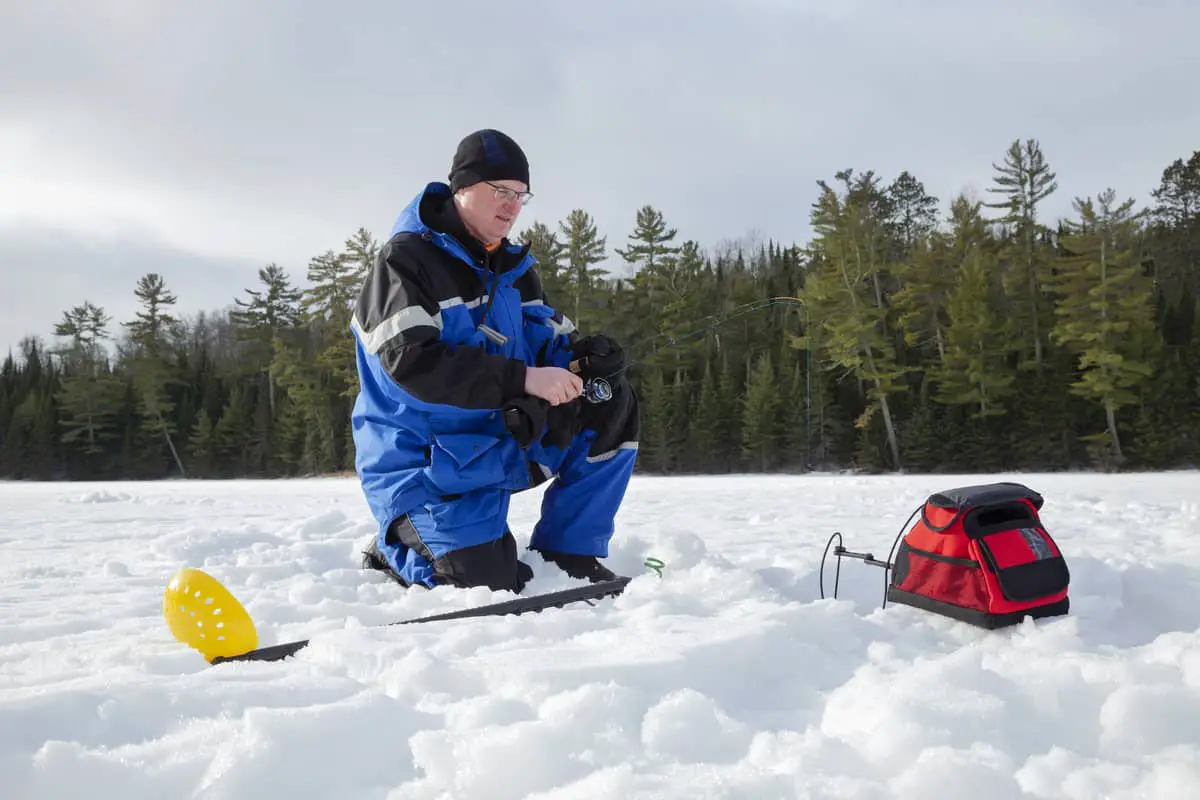 Depending on how dirty and bad your gear smells, you may want to wash them in a local laundromat! Your significant other may not like to find fish scales in their dryer or clothing!
Inspect for Any Tears or Holes in Clothing
Lay your gear out on a flat surface and inspect it for any tears, holes, or other areas which may fray and deteriorate during the wash cycle.
Stitch up or patch any areas that need it. Once a hole or tear begins to fray, it becomes more difficult to patch.
Empty Pockets, Remove Protective Waterproof Cell Phone Holders
I lose track of which front or side pocket I put things into with the newer ice fishing suits! Now there are even more pockets sewn into the inside and insulated liners!
Carefully inspect each pocket for random jigs, hooks, lead split shot, or cups of bait. I've been known to wash a plastic cup of maggots once in a while!
Remove Any Carabiner or Metal Clips From the Exterior
I wear an Extreme Advantage suit by Clam Outdoors, and it has a few metal accessories I'll remove before washing. Most bibs and coats have them now.
Sometimes I'll add my own small carabiners to hang my fish towel by. I always wash my fish towels at the same time I wash my bib and coat.
Wipe Off the Dried Slime and Any Fish Scales
After a few weeks of fishing, there will be quite a bit of dried fish slime and scales stuck to your clothing.
Using a damp towel, pre-clean what you can by removing heavily slimed areas and all the fish scales you can.
Use a Bristled Brush To Remove Heavily Soiled Areas
With heavily soiled areas, I've found a bristled brush for cleaning nails does a great job in removing most of the thicker dirty areas.
Fill Bathtub or Washing Machine With Cold Water
This is where you may want to consult the tag on your clothing with the care instructions. Personally, I'm a cold water washing guy! Some brands recommend warm water washing.
I used to pour detergent right onto the clothing and start the washer. But I've been told it can stain or discolor clothing, so now I fill the washer then add the soap.
Another option is to hand wash your gear in the bathtub. Some washing machines have smaller tubs, and you may not be able to fit the bib and coat in the washer adequately.
Add Laundry Detergent and Clothing
Once the water shuts off in the washing machine, add your detergent and then your clothing.
Wash on Gentle or Hand Wash Cycle
Most machines have a gentle or hand wash cycle. Use the lightest setting on your particular washing machine.
Most bibs have padded areas in the seat and on the knee section of the bibs. Using a lighter cycle wash will keep these padded materials from moving around or bunching up on you.
Hang in Warm Room To Dry
Once the cycle is complete, flatten out the coat and bibs, removing any creases or big wrinkles you see.
Hang them up in a warm room to dry. It usually takes a good solid 24 hours for them to dry completely.
Can You Dry Ice Fishing Coat and Bibs in the Dryer?
Hey, I'm not going to say you can't dry your gear in a clothes dryer. I've done it numerous times.
In fact, I dry my gear in a dryer most of the time! The spin cycle never gets rid of all the water, and they're quite wet when they come out of the washer.
I'll shake what water off I can and toss them into the dryer for 30-45 minutes to give them a head start on the drying process.
A few years back, while fishing in Idaho, I went through the ice. Once back in the lodge, I asked the manager to dry my bib and coat in their industrial dryer. I made double sure they used the light cooler temperature setting!
If you use a dryer, use a low setting for heat as higher temps may damage any waterproofing material.
How Do You Wash Goretex Suits?
With suites that contain Goretex, use the same steps as above. Except once the clothing is dry, you'll want to dry it for another 20-30 minutes to revitalize the DWR (Durable Water Repellent) treatment.
If water doesn't bead after you wash your clothing, you'll want to reapply a DWR product of your choice, and it can be either a pump spray or a wash-in product.
Use a small amount of liquid detergent. Rinse your gear twice and minimize spinning.
Goretex recommends not using powder detergents, fabric softeners, stain removers, or bleach and not washing with heavily soiled clothing.
You can find further information on the care of Goretex outerwear at the Goretex site.
Best Soap for Washing Ice Fishing Suits
Manufacturers recommend using a gentle liquid soap.
Something like Tide Free Gentle Liquid Soap or Woolite Laundry Detergent is good to use. Please stay away from detergents with bleach in them and powdered detergents.
Since the tub is packed with insulated clothing, there is little room for the clothes to open up adequately. Powdered detergents can find their way into and build up in these creases and pockets.
Some folks on the ice wear their slime like a badge of honor all season long. Don't be that guy! Wash your gear at mid-season if you fish a lot, and then again before you store it away!
Have fun and stay safe out there!