This post contains affiliate links.
Ice augers can drill holes as small as four inches and as large as twelve inches. The most commonly sized ice fishing holes are six, eight, and ten inches wide. So how big should your ice fishing holes be?
As a general rule, an 8-inch hole is the best size for ice fishing. They are large enough to accommodate all fish up to trophy walleye, pike, and lake trout, where a 6-inch hole would be too small for the larger fish. Holes 10-inch and wider can be stepped into by anglers causing ankle or leg injuries.
For over thirty years, every winter, I have drilled countless holes through the ice. The very first hole I ever put through the ice to fish through was with a Stihl chainsaw! I've learned a lot about drilling holes since then, so let's get into it!
Is a Six-Inch Hole Big Enough For Ice Fishing
As a general rule, a 6-inch ice fishing hole will accommodate smaller panfish and medium-sized fish through ice up to 12 to 18 inches thick. As ice becomes thicker, it becomes increasingly difficult to turn fish up the hole and is commonly lost when the hook gets caught at the bottom of the hole.

For the majority of applications, a 6-inch hole is going to be acceptable for most ice fishermen. And I have seen large trout and walleyes pulled from a 6-inch hole when they have been played properly and not actively fighting any longer.
An advantage a 6-inch hole has over larger diameter holes is a fish isn't as likely to turn around and swim back down the hole and getaway! With a 6-inch hole, the fish can only swim upward!
The one thing to remember is that you have a long way to drill through the ice to the fish as the ice becomes thicker. If you hook into a large walleye or hard fighting fish, your line will rub against the hole's top and bottom edges.
If you're using a monofilament fishing line, it may break in two from the hole's abrasive and sharp edges. You'll also lose the ability to change your angle of the fishing rod to fight the fish.
When the ice isn't as thick, the fish will be easier to "guide" into the 6-inch hole. You can also place your rod tip beneath the ice to free a hung-up line or lure. The thicker the ice, the harder it is to guide a fish into the hole.
A 6" hand auger with a sharp, high-quality blade will cut through 4 to 6 inches of clear, hard ice in under a minute. 8 to 12 inches of ice will take an extra minute or so. Longer time is needed if you take a break!
What is the Best Size Auger for Ice Fishing
For gas and electric augers, the best overall size is the 8-inch auger. It's a large enough hole for most fish, and you can drill overlapping holes for a larger hole. For hand augers, a 6-inch auger would be the best overall size for cutting through the ice if you're drilling numerous holes.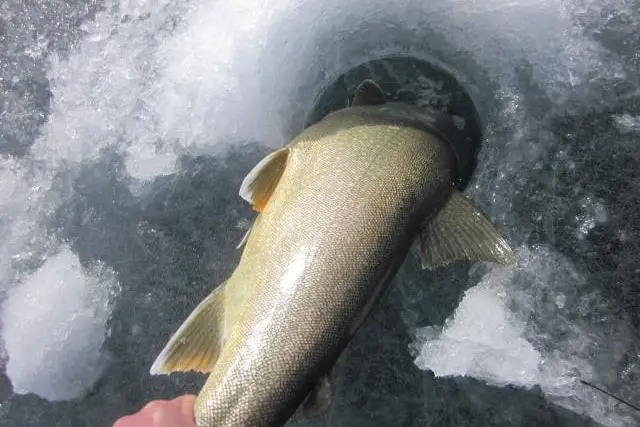 Currently, I use the 8" K-Drill Ice Auger System with a Milwaukee Fuel M18 Cordless drill, and it's my favorite auger to date! Before I owned my K-Drill, I would use a 6" Strikemaster Lazer Hand Auger on early ice.
The 6" Strikemaster Lazer breaks down into two sections and weighs a little over 6 lbs. Light enough for me to hike into the mountains where powered augers aren't allowed.
When using a powered ice auger, you can certainly size up if you'd like to. The 'Bigger is Better' philosophy kind of works here. You will find there are a few drawbacks to bigger holes as well! 
Best Sized Gas, Battery, or Propane Ice Fishing Auger
When using a powered ice auger, whether it's gas, electric, or propane powered, the most common sized used is the 8-inch. Although you see anglers using a 6-inch power auger, they aren't typically seen on the ice.
An 8-inch auger will use less fuel than a 10-inch auger, and it will be lighter to carry or haul across the ice if you're walking and pulling an ice fishing sled full of your gear.
Gas-powered augers can have issues with their carburetors, chokes, air filters, spark plugs gumming up, and more. There are still a lot of them out there, and I still own two gas-powered augers myself!
Propane-powered ice augers that I have run and been around (I don't own one but have fished with guys that do) have a strong smell to them as the burnt propane is exhausted. 
The green 1lb propane bottles seem to freeze up when it gets to sub-zero temperatures, and you aren't able to fully use the contents of the bottle.
Battery-powered ice augers are becoming extremely popular in the past few years. With the advantages of lithium batteries, they run longer and start with a button's push without fail as long as the battery remains charged!
One terrific advantage of electric ice augers is most of them now have a 'Reverse' feature. The reverse feature allows you to back your auger out of the hole if it becomes stuck!
When we fish Lake Winnipeg in Manitoba, Canada, our whole group carries 8-inch ice augers. The ice in late March can be as thick as 55 to 58 inches! We routinely pull Master Angler walleyes over 30 inches through the ice!
Strapped to our side-by-sides, four-wheelers, and sleds, you'll find a few Strikemaster Electric Augers that perform flawlessly throughout the week. And some of us carry Strikemaster Gas Powered Augers.
In any event, we've never had an issue where we felt we needed the larger 10" hole to pull a trophy walleye through. There have been several nice northern pike caught on the trips too.
In my opinion, an 8" ice auger is the perfect-sized hole to ice fish through!
Best Size Hand Auger for Ice Fishing
As a general rule, the best-sized hand auger for ice fishing is a 6″ model. A 6″ hole is large enough to allow bigger fish up through the hole. In contrast, an 8″ hole takes more physical effort to drill by hand. For panfish and the smaller species of fish, you can downsize to a 4″ or 5″ hand auger.
If you're fishing through ice that is over 10" to 12"  thick, you might be able to get away with using an 8" hand auger. For me, it's more work to drill those holes, and I do not gain a significant advantage for my effort.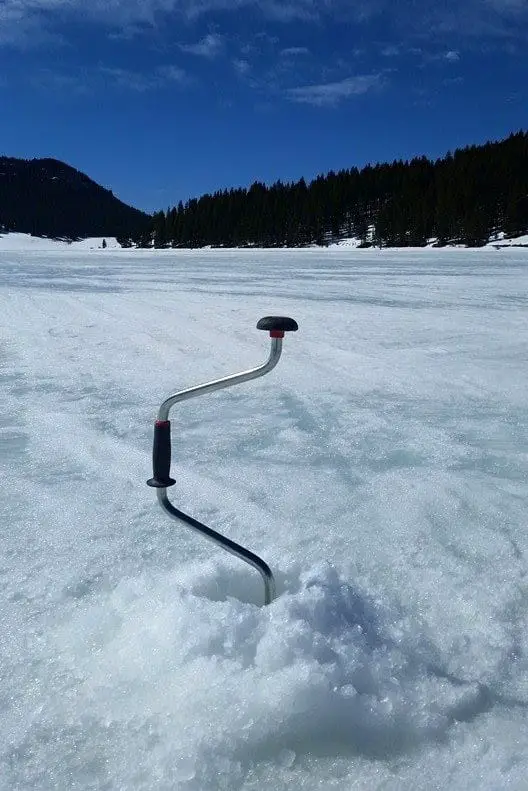 A hand auger that drills a 6" hole is sufficient. In the photo above, I'm drilling through close to 30″ of ice in the Bighorn Mountains of Wyoming for rainbow and brook trout!
When you're fishing an area that is exclusively a panfish, bluegill, crappie, or yellow perch lake, you may want to consider dropping to a 4" or 5" bit. The smaller diameter drilling augers are darn near effortless compared to the 6" and 8" augers! 
How Far Apart Should Ice Fishing Holes Be
On average, ice fishing holes should be at least 10′ apart if you're fishing within a group to keep lines from entangling. When using an underwater camera, 2′ away from your hole is sufficient. Don't crowd other groups. Remain 25′ to 50′ away, depending upon the depth and species you are fishing.
Keep in mind there are fishing lakes that people are more apt to let you move in close to them. While on other lakes, a long-distance apart is the social norm. Perch tend to move in schools, so you'll find more fishermen closer together.
When fishing lake trout, which are roamers, you'll often set up on a piece of structure for the day or thirty minutes to an hour. Having somebody walk across a quarter-mile of empty ice and set up within 10' of you isn't accepted practice.
When I'm fishing on a popular local lake or reservoir, having someone or a group of guys set up close is okay. It's a popular fishing spot. If I've hiked into the mountains or driven a long way to reach a remote area, I don't want someone right next to me.
Use common sense when fishing new areas or approaching groups that are already fishing and who you do not know.
How Do You Make an Ice Fishing Hole
A spud bar has been used for years to make an ice fishing hole. Begin by chipping out a larger diameter hole than you need to fish through. Chip the hole out in a conical shape as you progress downward until you reach the water. You can use the spud bar to shave and open the hole wider if needed.
When I go out on very early ice, I only take a spud bar along to get through the ice. Not only does it chip a hole out quickly on new 3" ice, but it also serves as a safety tool while walking out.
As you cross the ice, use the spud bar to probe for weak or thin ice by spearing along as you walk. Listen to the sound the ice makes when you hit it. If the spud goes through, slowly back up the way you came in!
A spud bar is a great multipurpose tool for the early ice anglers!
Have fun and stay safe out there!