This post contains affiliate links.
Ice fishing goes as far back as approximately two thousand years ago. Something that initially started as a means of survival has developed into a popular sport, hobby, and fun for the whole family. Ice fishing is typically an all-day or weekend event in cold conditions, making energy and hydration essential to maintain.
The best foods for ice fishing can include oatmeal, breakfast bars, protein or meal replacement shakes, sandwiches, hotdogs, soup, casserole, trail mix, granola bars, and jerky, to name a few. Consider foods that will be easy to prepare in advance to get the most out of your ice fishing experience.
Ice fishing has become rather popular over the years. Whether going out alone for some peace and serenity, taking along a couple of friends, or going on a trip for the weekend with your family, you will want to be fully prepared with the best foods to make the most of your ice fishing experience.
Let's have a look at some ideas: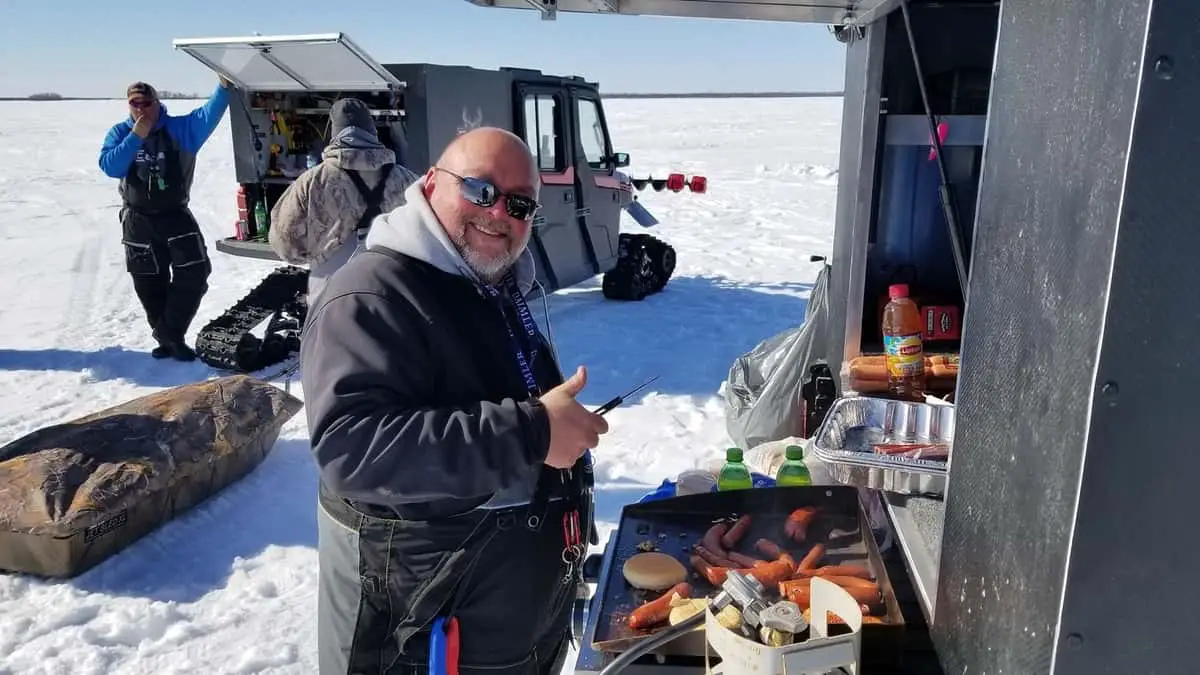 The Best Foods For Ice Fishing
With my current work schedule, I happen to ice fish alone quite a bit. My mainstay eats on the ice since I like to keep on the move is a handful of Snickers Bars and a few bottles of Coke or Pepsi!
The candy bars freeze nicely and are small enough to tuck away in a pocket or your sled somewhere. They give you a quick boost of energy when you need it the most, and the almonds are a plus for me!
A bottle of pop can freeze pretty quickly when you're on the ice, so pay attention to them. Nothing worse than having a bottle burst when you least expect it and get all over your fishing gear!
An important tip to consider right from the outset is that preparation is your friend when it comes to ice fishing!
Before leaving for the day or going off on an ice fishing family trip, preparing bulk meals and quick and easy snacks can save you a lot of time and effort. This will, of course, assist in keeping all your focus on getting the biggest catch of the day!
A small propane camp stove is an excellent piece of equipment to take with you to cook or heat any food or beverages that you've brought along. 
When thinking about what to bring along with you, it is important to consider the foods that will be most sustaining and easy to prepare. Let us have a look at some food and snack ideas to have you covered for breakfast, lunch, and dinner. 
Breakfast
Most professionals consider the first few hours from sunrise to be one of the best time frames to go ice fishing. This, of course, means a very early start to the day.
Breakfast is referred to by many as the most important meal of the day since it is our body's first dose of energy that will be used to get the day started.
If you're anything like I am, the first thing I do is get the coffee pot going! Maybe you're a hot tea or energy drink person. It really doesn't matter as long as we get that first shot of caffeine in us!
When traveling and staying with buddies in a hotel, lodge, or Airbnb, our morning "breakfast" is comprised of microwave-type Jimmy Dean Breakfast sandwiches, Smuckers Uncrustables PB&J, donuts, and maybe some summer sausage and cheese slices!
Our mornings are generally pretty hectic with getting trucks warmed up, snowmobiles and four-wheelers running, gear packed up for the day, etc. We tend to eat better on the ice later in the day!
But mainly coffee and those first couple of pots go quick with all of us standing around and staring at it!
Since you will most likely be having such an early start to the day, it is recommended that you eat something that will be quick and easy to prepare while still being a good source of energy for the day ahead.
Some examples are as follows:
Instant Oats/Oatmeal
Full of nutrition and easy to prepare, instant oats are a great breakfast to start your day. Preparation is as simple as heating some water on your camping stove, adding it to your oats, and you are ready to go! Adding some nuts or honey is also great for some added flavor, protein, and energy.
Breakfast Bars
Breakfast bars are one of the quickest and most convenient options for an on-the-go kind of day. Being packed with carbohydrates, protein, and fiber make breakfast bars an excellent option to start your day of ice fishing.
When shopping for some breakfast bars, pay attention to the ingredients and avoid those with high sugar content.
My favorite breakfast bar to stick into my coat pockets is the Blueberry Clif Bars. Breakfast bars are super easy to pull out of your coat pocket and eat with one hand while you jig for fish with the other!
Clif Bars come in a wide variety of flavors, and they are super nutritional too!
Protein Or Meal Replacement Shakes
Protein shakes or meal replacement shakes can be an excellent option for an early start to the morning. Since they are filled with numerous vitamins and nutrients, protein or meal replacement shakes are ideal for getting a good source of energy and sustenance for the day ahead.
The fact that protein shakes come in powder form makes them very easy to pack and transport. Add the powder to some water in a shaker, mix it thoroughly, and you are all set!
For an even more convenient experience, you could even purchase ready-made shakes.
Due to the extremely cold weather, make sure to store your water in a properly insulated container; otherwise, you may need to heat it slightly on your camp stove.
Convenience Store Breakfast Burritos
If you can't meal prep before leaving for the ice, the next best thing is to hit a Casey's General Store, Maverik Adventure, 7-11, or similar convenience store for your coffee and food and snacks for the day.
Most c-stores have a variety of breakfast burritos and pre-made sandwiches and wraps that you can carry easily with you.
Lunch
By now, you've probably been ice fishing for a good couple of hours, and your stomach is growling from all the work you've put in to catch some decent fish. You'll be wanting to have something a little more hearty while taking a bit of a break for the day.
Next, we'll have a glance at a few of the best lunch options for ice fishing:
Sandwiches
Sandwiches are a great lunch option since they can be prepared in bulk before leaving for your ice fishing trip.
Using cheese, assorted meats, and sauces or spreads is a great way to make them filling and delicious. Try using some whole grain, low GI bread for an even more substantial lunch.  
Food Tip: One of my favorite ways to have "sandwiches" when fishing on ice or in the mountains is to carry a stick of summer sausage and a block of cheese with me and make bagel sandwiches.
The bagels are pretty much crush-proof, so your sandwiches don't get smushed, and the summer sausage and cheese keep nicely. If you make them at home, you can use the ziplock baggies as small trash containers until you get home to dispose of them.
Another good friend of mine will bring sandwiches made on Hawaiian Bread Rolls, and they are fantastic! He will slice the whole pack in half down the center, make ONE HUGE sandwich, and then break the sandwich rolls apart as needed.
A great plus to using the Hawaiian Bread Rolls is that you can slide the whole thing back into its own wrapper, so there is no need for extra sandwich bags.
Hotdogs
Being one of the simplest meals there is, hotdogs are a fantastic option for lunch. Bring some rolls, sauces, and your favorite hotdog sausages, and you're all set!
Hotdogs take minimal preparation, so they will be easy to make beforehand. However, for a fresher experience, you can cook or heat the sausages on your camp stove or a camp grill.
Dinner
If you are planning an ice fishing weekend away, as opposed to just a one-day trip, then planning for dinner will also be necessary. Do bear in mind that the suggestions listed here can also be prepared as alternative lunch ideas.
As previously mentioned, meal prep is highly recommended for ice fishing, whether you are planning on just going for the day or planning a get-away. Let us have a look at some of the best foods for ice fishing to prepare for dinner: 
Soup
Soup makes for a great meal when you are out ice fishing. Warm, filling, nutritious, and delicious. Make a big pot the night before leaving and store it in an insulated container. Once again, your camp stove will come in handy, ensuring that your soup stays warm.
On one memorable Canadian ice trip, we were warmed up with a pot of Beer Cheese Soup, and brats! I usually don't stop to eat very often while fishing away from home, but dipping those brats into the soup made a huge difference for us that day!
Casserole
With only three main ingredients, including meat (either beef, chicken, or fish), canned tomatoes and other vegetables, and something like flour to bind it all together, casseroles can easily be considered one of the best foods for ice fishing. 
Similar to soup, you can prepare a large dish the night before your ice fishing trip and have your camp stove ready to heat it all up whenever you are ready for a hearty meal. 
Food Tip: Make several mini-casseroles, chili, or stew, in the small disposable foil pans you see used for banana bread, etc. They will sit right atop your heater or stove for a quick, warm meal!
Snack Ideas
Anyone would agree that snacks are one of the essential parts of any trip you will ever go on. You can't possibly go ice fishing without taking along some of your favorite snacks! 
The best snacks to take along can include:
Trail mix
Beef jerky
Granola bars 
M&M's
Licorice
Candy Bars (Snickers are my favorites!)
Large Plastic jar of peanuts or cashews
Small snacks that travel well, fit into my heavy parka pockets, don't make a mess, and I can eat with one hand while fishing with the other are my main choices!
Conclusion
Overall, making sure that you have the best food prepared for ice fishing can significantly affect the quality and enjoyment of your fishing trip.
Meal prep will undoubtedly contribute to the enjoyment of reeling in your next catch! Remember to keep some of your favorite snacks handy, and you're all set for the best of times!
Have fun and stay safe out there!